[ last update: 11.06.2014 ]
The (new) Cadillac Database©

Miscellaneous Cadillac Stuff
Cadillacs in the Movies

Yes, they even star in the movies...


Return to The (New) Cadillac Database© Index Page
or return to the "Miscellaneous Cadillac Stuff" index page


(le résumé en français se trouve en bas de page)
A true car buff can't watch a movie involving scenes with cars, without searching all over the screen for the cars that he particularly admires. And he is very critical too; don't feature cars built in 1964 in a movie depicting life in 1962; that gets him very annoyed!

One of the topics quite frequently discussed on the Cadillac Mailing List (CML), is that of Cadillac automobiles that have had starred in movies or on TV. The bulk of this alphabetical listing was compiled by Kai Savolainen, a CML subscriber from Finland and complemented by yours truly, with help from a bunch of movie-going Cadillac car buffs. Other sites devoted to Cadillacs in the movies may be found here (Dutch site) and here (Belgian site). Both are excellent and may include movies that are NOT on this listing. It is unlikely that such a listing - like The (New) Cadillac Database© itself - will ever be complete; however, it is a good start, and users are invited to submit their entries, to complement the list.

Note, however, that since I created this page in 1996, I have come across a Web site devoted entirely to cars in the movies; there is a vast section there [76 pages at this writing - April 2007!] listing ONLY Cadillacs featured in movies. Rather than copy here the results of the work done by movie buffs worldwide, I recommend you visit that site which is a HUGE complement to this one.

"Fuzzy" images are from video stills - you can tell my equipment is not of the highest quality!

I'm not sure of my position as regards copyright restrictions on any movie stills appearing on this page. Should any movie producer, actor, cameraman, classic car owner or other party consider that his/her copyright on a particular image may have been (inadvertently) infringed here, I beg your indulgence. I believe such image has been used fairly and only for its historic significance, not for profit of any kind. If you do hold copyright to any image herein, I will gladly (a) modify this page to give you due credit for your artistic work or (b) remove that image at your specific request.

º º º º
2 Fast 2 Furious

- this movie is the sequel to "The Fast and The Furious"; featured is a
1968 DeVille convertible

711 Ocean Drive, starring Edmond O'Brien and Joanne Dru

- 1949 Series 62 convertible. This first one was sent in by movie buff, James R. King, in June 2002; he says: A movie which should be on your list is 711 Ocean Drive starring Edmond O'Brien and Joanne Dru. Edmond O'Brien character gets a new '49 Cad and in one scene he pins a guy against a fence with it and the fence breaks and the guy falls off a pier and drowns. The scene was reproduced in the notorious French book, Sadism in the Movies. Later, he escapes in the car and is chased by the police to Hoover Dam and there are lots of shots of the car speeding along, etc. I recall that the car is a Coupe de Ville but I have a tape of the movie so I'll have to check to be sure. Thanks, James.

Other trivia: James mentions another book by John O'Hara called Appointment in Samarra. It was never made into a movie, but the main character is the president of a Cadillac dealership. He commits suicide by sitting in his Cadillac in a closed garage with the motor running - probably the reason it's never been filmed. Here are some 'Cadillac' excerpts from that book:

Harry Reilly now practically owned the Gibbsville-Cadillac Motor Car Company, of which Julian was president.

Listen to you? Why, Mrs. English, one of the most attractive features of the Cadillac is the minimum of noise in the motor.

He had bought a Cadillac, from Julian, instead of a Lincoln from the Ford dealer, who was a Catholic.

'What?' I said.'Why the Cadillac is named after a Catholic,' I said 'Old Duke Cadillac, he was a Catholic.'

The idea of them was a mechanic could ride the motorcycle to, say, the Davis' garage, hook some kind of gadget on the Davis' Cadillac, and drive the car, with the motorcycle trailing along behind, back to the Gibbsville-Cadillac Motor Car Company for servicing or repairs. That was another idea that was going to make a saving, but the saving, Julian was
sure, had failed to make a showing on the books.

The result is, any time one of his bootlegger friends is on the market for a high-priced automobile, Ed sees to it that we make the sale. You don't see Ludendorf selling Packards to any of Ed Charney's pals.


Ali, starring Will Smith

- The story of heavy-weight boxing giant, Mohamed Ali, earlier known as Cassius Clay, features a 1965 Eldorado convertible and (briefly), a 1969-70 Eldorado coupe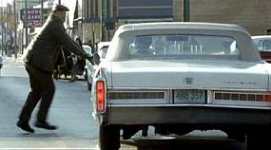 [ Info and (cropped) movie stills from Irwin Kho, Philippines ]



All Down the Line

- An Australian surfing movie released in the early nineties, features a group of surfers
cruising the north coast of N.S.W. in a bright red convertible with a white soft top [tip
from Aussie enthusiast, Alan Macoustra]

Alphabet City, starring Vincent Spano and Michael Wimslow (1984)

Movie and Cadillac enthusiasts Brad Faul of Burlington, NJ writes: Hello, I really enjoyed looking at your Cadillac movie page. I went through some of my movies, and grabbed stills of the Cadillacs that haven't been put on the page yet. This first one is for the 1984 action movie starring Vincent Spano and Michael Winslow, "Alphabet City." I have to send the picture separate, as my email will not let me grab folders. I also will send you Cadillacs from the movie Kingpin and Dazed and Confused. If you liked these submissions, let me know. I have several other movies with great Cadillac footage that I'd be more than happy to send to you. Thank you for your time! In "Alphabet City," The Seville is being driven by the Mafia guys that come to kill "Johnny Chunga," the main star. The limo was going to take his sister away to be a prostituted, so he beats up the driver and saves her (he slams his leg in the door, ouch!)

American Beauty, starring Kevin Spacey and Annette Benning
- Two young adults in the movie are reflecting on the topic of life and death, just as a funeral procession drives past, that includes this Cadillac hearse: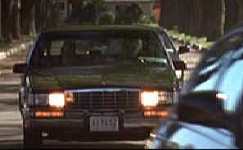 [ Philippe Ruel of France kindly supplied the movie still ]
American Boyfriends, 1989 [sequel to My American Cousin]
- It revolves around a 1957-58 Eldorado Convertible and 2 teenage girls visiting Southern California. At the end of the first movie, the cousin returns home in a 1959 Series 62 convertible. He dies accidentally in the opening scenes of the sequel. The hearse used at the funeral is also a 1959 Cadillac model

American Cousin, My

- the hero drives about in his mother's 1957 convertible [see above]

American Hot Wax [1978]

- 1959 Fleetwood Series Seventy-Five

American Virgin, starring Bob Hoskins

- Pink 1976 Eldorado (?)

Analyze This, starring Billy Crystal and Robert De Niro [1999]

- Thanks to Jerry Jansson (Cadillac enthusiast and movie buff from Sweden) here is the plot and, below, a few pics: Paul Vitti, a New York crime family racketeer played by De Niro, is about to get in touch with his feelings. Try telling him his 50 minutes are up. Billy Crystal, always one joke ahead of sleeping with the fishes, plays a shrink, Ben Sobel, who has just days to resolve Vitti's emotional crisis and turn him into a happy, well-adjusted gangster. Yes, Sobel is a family psychiatrist. But surely this isn't the kind of family he had in mind.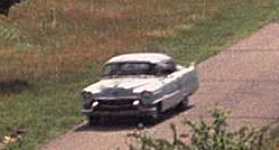 1955-56 Sedan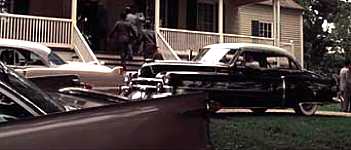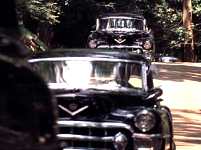 Left: 1956 coupe and 1950-52 coupe
Right: two 1953 models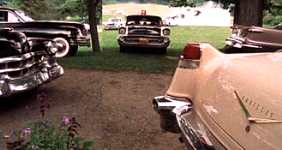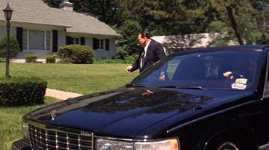 Left: same cars as above, left, but from the opposite side (1950-52 Cadillac,
1956 fins and (upper right) 1958 (?) Chrysler Imperial
Right: Vitti's bodyguard alighting from a 90's Brougham (?)
© 1999 Warner Bros
Another 48 Hours, starring Nick Nolte, and Eddie Murphy

- it featured the same, beat-up, blue 1964 DeVille convertible as in the original movie Forty-Eight Hours (below).
April Love, starring Pat Boone

- A '52 Cadillac convertible was featured in this movie. The car is still in service; it is owned by CLC member, Brian Francis, who supplied the information.

Austin Powers, starring him and Liz Hurley

- In the movie about this "International Man of Action", there is a brief appearance of a 1964 Series 75 limousine in front of a Las Vegas casino hotel


[ This is a 1964 Series 75 limousine; it is NOT the movie car ]
Aviator, The, starring Leonardo Di Capri

- Tells the story of millionaire recluse, Howard Hughes and features many cars including
this 1942 formal limousine from the collection of Ed Cholakian in California
Bad Boys II, starring Will Smith and Martin Lawrence

- This from enthusiast and CLC member Robert Bothwell [1/2004]: I just watched 'Bad Boys II'. See Will Smith and Martin Lawrence do their chase thing in a new CRX. It was in better shape in the end than the Hummer!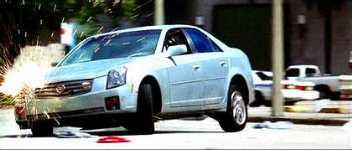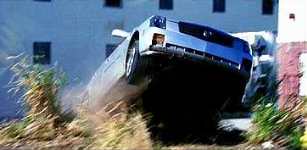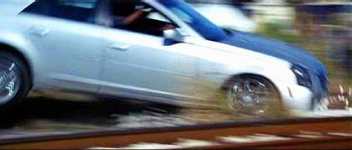 These movie stills supplied kindly by Irwin Kho of the Philippines
Badlands, starring Charlie Sheen and Sissy Spacek

- 1959 Cadillac

Bamba, La, starring Lou Diamond Phillips

The movie retraces the short, tragic career of Latino-American pop star Ritchie Valens, played by Lou. Valens was a young rock and roll star. who died in the same plane crash that claimed the lives of Buddy Holly and The Big Bopper. This movie is a must for old rock and roll enthusiasts!

- 1957 Cadillac hearse
- 1958 Series 75 sedan or limousine

Batman (1)

- In this pre-WW2 movie, batman uses a 1939 Series 75 convertible sedan as his daily driver
Batman (2)

- There is one scene where a 1962 Cadillac Fleetwood Series 75 limousine flashes quickly across the screen (for about 1 second). Another stretched Cadillac (?) limousine also is briefly featured
Battle for the Villa Fiorita [filmed in the early 1960's, in Italy, starring Maureen O'Hara, etc.]

- In the closing scene Ms O'Hara's family leave the villa in a beautiful, black
1959 four-door Cadillac.

Bedazzled, starring Brendan Fraser and Elizabeth Hurley,

- Thanks again, Jerry Jansson, for this new addition: Brendan Fraser is a hapless, love-starved computer technician who falls prey to sinfully sexy Elizabeth Hurley (the Devil ) when he agrees to sell her his soul in exchange for seven wishes. But the sly Princess of Darkness has more than a few tricks up her… sleeve. And before you can say Fire and Brimstone, Elliot's life becomes a hysterical hell on earth.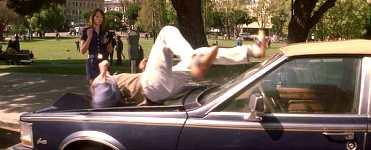 Brendan falling out of the sky onto the hood of
this Cadillac Seville (the meter maid is Liz Hurley)
2000 ©20th Century Fox and Regency Enterprises
Betrayers [these are the disposing of ...]

[no other information currently available - 2014]


Bodies in the trunk of a 1967-68 Fleetwood 60 Special

Beyond the Valley of the Ultra-Vixens...

- From film buff and Cadillac nut, Philippe Ruel (France), comes this movie still from the Russ Meyers' erotic movie Beyond the Valley of the Ultra-Vixens (1979). Lots of "ordinary" cars featured, with the exception of this white 1963 sedan sitting outside a junk yard as the film's title man drives past in his GMC truck.


Added here exceptionally, even though car appears only
briefly and has no special role to play in the movie

Big, Fat, Greek Wedding

- the father of the bride starts off the movie with a Cadillac

Big Night, starring Ian Holm and Minnie Driver (1996)

- 1996 comedy/drama about two brothers getting their restaurant afloat; Stanley Tucci takes a break from his restaurant to visit a Cadillac dealership around 1958, to drool over the new models. He gets buttonholed by a salesman and eventually takes a new Series 62 convertible for a test drive. Later in the movie there is quite a long sequence showing the interior then the exterior of a '58 Series Sixty Special; other models also make brief appearances (1953, 1956, 1957).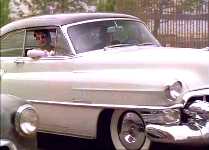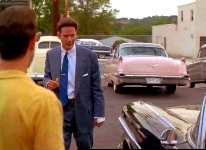 Left: 1953 coupe or Coupe de Ville;
Right: (center) 1956 rear clip and (far right) 1957 model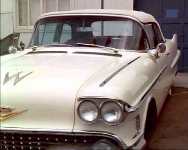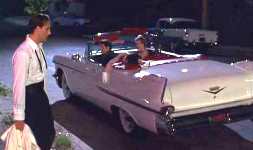 1958 Series 62 convertible, "star" of the movie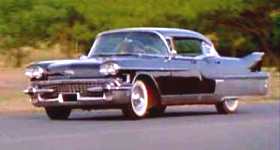 1958 Series Sixty Special sedan
Black Book [2006], this movie features a Sayers & Scovill (USA), S&S Damascus, sculptured-side hearse on LaSalle chassis. The movie was filmed in Holland; it's about the persecution of the Jews in Nazi-occupied Holland during WW2.


(Top two rows): this carved-side hearse was in service in Belgium, where it still resides

Black Cadillac (2003), starring Randy Quaid [proposed addition by CML member, Ronald Threadgill, although he says it's one of the WORST movies he's ever seen!]

- 1957 Series 75; in several scenes, a black '57 Series 62 Sedan is substituted for the Series 75 limousine. Since the roof and rear window is completely different on the two cars, a fake roof extension had to be created for the Series 62 model. It was this car and not the limousine that drove off the cliff into the frozen lake at the end of the film.

Blade, starring Wesley Snipes

- 1967-68 DeVille coupe

Blast From the Past, starring Brendan Fraser and Alicia Silverstone

- 1960 Cadillac convertible (red). Brendan Frazer plays a guy (Adam) who has been brought up in an underground bomb shelter with his family for the last 35 years. He emerges into a wild world in search of supplies and a simple girl from Pasadena. Instead he meets Eve, a modern LA woman, jaded about life and burned by love. The result is an engaging romantic comedy that's charming funny and hip! The 60 Cadillac is the ride they use when relocating Adam's parents to their new safe home.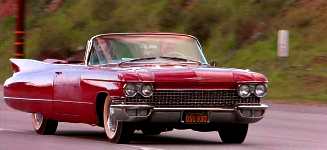 ©1999, New Line Productions Inc.
Blaze, starring Paul Newman

- 1957 Series 75 limousine
Blues Brothers, by John Landis, starring James Brown, Cab Calloway, John Lee Hooker, Ray Charles, Aretha Franklin, Steven Spielberg and many others...

- Featured are two 1967 Cadillacs: a black S&S flower car from Hess & Eisenhardt and a mildly customized pink sedan (?). Thanks to Philippe Ruel, from France, for the DVD stills, below, and for identifying the models.

The '67 Cadillac S&S flower car by Hess & Eisenhardt
used by Cab Calloway to take the orphanage kids for rides


The late and great Cab Calloway sings his famous Minnie the Moocher in the movie


This is the band's Cadillac (a 1967 sedan?) that "Jake " takes
brother Elwood to task for having traded it for a microphone!
Blonde [the Marilyn Monroe story]

- Quite a few Cadillacs; the only one I was able to ID during the TV
showing was a 1948 Series 60S sedan

Bon Voyage, the movie was made in 2003

- features a Fleetwood 75 limousine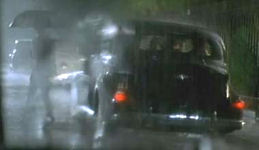 Screen capture images from IMCB web site
Bobby, starring Anthony Hopkins, Helen Hent, Demi Moore, etc.

- In this recent (2006?) , semi-documentary on the life (and death) of Senator Robert "Bobby" Kennedy, one of the background vehicles I notoced was a "Pacific Coral" 1957 coupe or "Coupe de Ville" [no close up view to determine which of these two possibilities]
Boogie Nights

- features a couple Fleetwood 75 limousines and a Coupe deVille

Brasco, Donny, starring Al Pacino, Johnny Depp, James Russo

- A Mafia related film directed by Mie Newell that is supposed to take place in New York in 1978, although the cars are from 1979; Donny Brasco (Johnny Depp) drives a red Coupe de Ville (that appears in some scenes as a Sedan de Ville!). A "must see" movie for fans of Cadillacs after 1977. This information was supplied by Dutch Cadillac and movie buff, Ron Manshande.

Breakout, starring Charles Bronson

- our hero drives a 1960 Eldorado Biarritz. This information received in February, 2003 from movie buff and Database visitor, Robert P. Millian who added: the movie is great and has some nice scenes with the the Eldorado.

Breathless, starring Richard Gere (1983)

- features a yellow 1959 Eldorado Biarritz with red interior (that someone offered to sell to me, back in the eighties ...but it was in pitiful condition!). This movie is a remake of the French cinéma noir's A Bout de Souffle, by Jean-Luc Goddard, starring Jean Seberg and a very young Jean-Paul Belmondo [I don't recall there being any Cadillacs in the original version]. Thanks to Cadillac buff Tore Robert Klerud, in Norway, for checking out the facts for me in the 1996 edition of the Leonard Maltin movie guide 1983

Bronx Tale, A [1992], starring Robert De Niro

- the plot is from the late sixties; there are lots of Cadillacs and other makes from that time. It ran on TV in October, 2003. I recognized a couple of 1968 De Ville convertibles (one red, one silver), a '66 De Ville convertible (black or dark blue), a '64 coupe used as a background prop and a '63 coupe into which the "bad guys" crash their car and get all burned up...

Bruno[2000], starring a young Alex D. Linz
Bugsy
- [The story of crime boss, Bugsy Siegel] features many '41 Cadillacs, including a 6127 coupe, in the opening scenes (Bugsy's light gray convertible sedan); this is the car of which one front fender got damaged during filming, so all the shots are from the "good" side. Bugsy's "moll" has a '41 convertible coupe that is so dirty that you can't tell whether it's black or another dark color.
Bullet [not "Bullitt" !]

- According to Cadillac buff Cory Heisterkamp of the Cadillac Mailing List (CML), this movie features a 1996 "Mary Kay pink" 1996 Eldorado

Butterfield 8, starring a young Liz Taylor
- I watched a re-run in Feb., 2002; when the heroine (Liz T.) gets killed at the wheel of her red Sunbeam Alpine, she gets taken away in a gray, early fifties ambulance. Movie buff, James R. King added : The name movie is taken from the novel of the same name by a well-known American novelist called John O'Hara. The name comes from a New York telephone exchange.
Cadillac Girls, starring Mia Kirshner and Will

- Did anybody see it? Any Cadillacs featured ?


Cadillac Man, starring Robin Williams

- This comedy about a Cadillac salesman in America features many Cadillac cars
of the seventies and eighties
Cadillac Named Desire, A, starring an unknown Sharon Thorpe

- Can't remember who sent me this one but I'm guessing it's a girlie movie bordering
on soft core porn. The car appears to be a '75-76 Eldorado convertible. The banner
reads: Let Victoria take YOU on the HOTTEST RIDE OF YOUR LIFE. Victoria does
look like a right little "hottie"!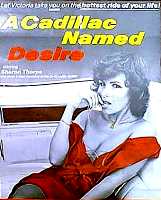 The star of this movie is not the car,
it's the gal named Victoria
Canicule [Dog Day], 1984

- This was gleaned from the IMCDB [Internet Movie Cars Database]. It shows a '64 De Ville convertible that played a minor role
the movie.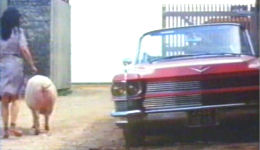 This '64 De Ville convertible plays a minor role
Carpetbaggers, The, starring Alan Ladd

- Ladd's car in this pre-war movie was a 1930 V16, Fleetwood style 4260 special phaeton. It featured a number of trim modifications including a pair of longhorns mounted to the front of the grille, cowhide upholstery and six-shooters as door handles. The car remained for a long time in the Cars of the Stars museum until it was bought and put back to the original factory specifications by a deserving collector.
Casino, starring Robert de Niro and Sharon Stone

- has a wealth of late 60's, 70's and 80's Cadillacs; four or five different Eldorado convertible models, a '68 Eldorado, and a 79ish Eldorado, which gets blown-up in the opening scene. Other period Cadillacs appear in background scenes.


This one gets blown up !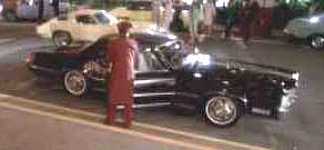 Catch a Thief, To - starring Cary Grant

- an Alfred Hitchcock movie of the early fifties in which a Fleetwood Series 75 limousine is seen parked outside the Carlton Hotel as Cary Grant enters it [only a glimpse, nothing more]
Catch me if You Can, starring Tom Hanks, Leonardo di Caprio, Christopher Walken (2002)

- comedy drama about a teenager who wants to impress his father with his alleged professional successes; he becomes a master at forging checks and assuming various identities; sad but sometimes very funny. Quite a few sixties Cadillacs are featured (principally a white 1964 Fleetwood Series 60 Special, just like our former car, and an equally white 1965 De Ville sedan)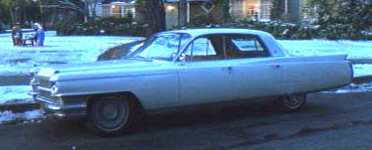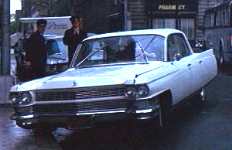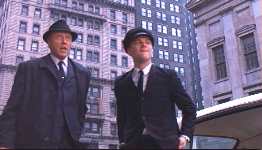 The 1964 Series 60 Special used as a prop for the scam that is about to be
perpetrated by the father-and-son team (Walken and Di Caprio)
[ Thanks to Jerry Jansson, Sweden, for the movie stills ]
Cave se Rebiffe, Le, starring Jean Gabin, Bernard Blier, Maurice Biraud, Martine Carol
(Gilles Grangier, 1961-62)

- Gangster movie with Jean Gabin in the lead role; he drives a '56 Eldorado (possibly his
own car); in the photo below (excerpted from France's NITRO Magazine for
Oct-Nov, 2003), Gabin's car is in tow behind a 1950 Fleetwood Series 75 camera car;
Le Cave se Rebiffe which, loosely translated from French, can mean The (crime) Boss
Strikes Back, is one of the best of the genre


This photo was taken during the shooting of the movie on Paris' Avenue Foch;
the Eldorado (far right) has had the motor, hood and fenders removed temporarily and
replaced with a camera platform; it is being towed by a 1950 Cadillac camera-car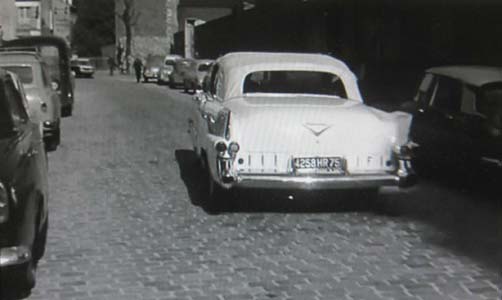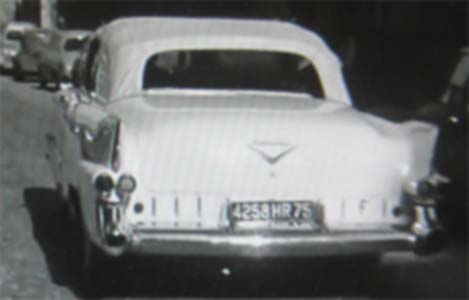 The movie was shot originally in B&W, like most Films noirs of the time:
The colorized version below probably was made in the 80s or 90s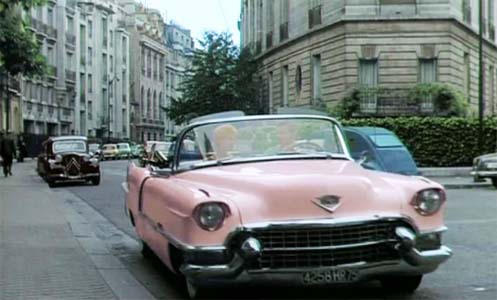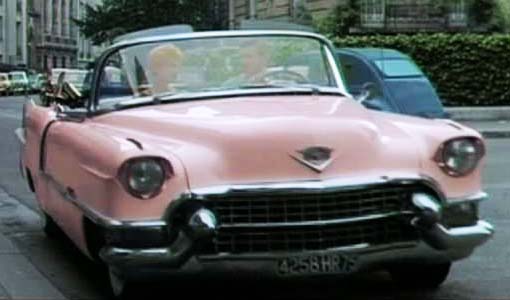 I believe the car actually belonged to the star himself (Jean Gabin)
Cider House Rules,

- a Database user informed me (in May, 2000) that this movie features a Cadillac convertible of the forties. Barry Wheeler of the CLC says ...the "40s" convertible in Cider House Rules is a Ford or Mercury, from 1941 I believe. Would you believe I was paying more attention to Charlize Theron than the car? She might be the reason for the mis-identification as she and the male lead go off in the bushes soon after getting out of the car. Just for this humorous comment, I think I'll leave this one on the list!
Charlie's Angels, sequel, starring Lucy Liu, Drew Barrymore and Cameron Diaz

- The movie is not yet released (Jan. 2003), but in a trailer seen on TV, there is
a scene with the girls in a car wash, with a white (?) 1965 Cadillac

Charms for the Easy Life,

- In one street scene you see a very nice parked 1938 Series 60 Special

Cheech & Chong up in Smoke [1979]

- the hilarious "couple"drive across a desert in a late 70s Series 75 limousine that gets sold piece by piece; at the car wash, they get a pimp's Eldorado Superfly all wet.

Cloak & Dagger [1984] (proposed addition by Cadillac enthusiast, Bill Haesslein, Sept. 2008)

- In this movcie, a youngster played by Henry thomas, trashes an 80's Cadillac [model unspecified]

Christine [1983]
- A horror-thriller by John Carpenter about a non-Cadillac car with a mind of its own; features a brief appearance of a 1974 Cadillac coupe
Cocoon,

- Remy, a visitor to the Guest Book of the Database mentioned that in this movie the seniors are seen many times with a 62 or 63 Caddy

Color of Money, starring Paul Newman and Tom Cruise

- In this remake of an earlier Paul Newman movie about pool hustlers, the "villains" ride around in a white 1980s Cadillac Coupe De Ville; the movie also features a 1954 convertible model

Commando, starring Arnold Schwarzenegger

- I got this info from French film fanatic, Philippe Ruel. In the movie we see Schwarzie at the wheel of a sea-green 1975-76 Eldorado convertible (can anybody confirm the year?)

Corniaud, Le [French movie], starring André Bourvil and Louis de Funés

- Le Corniaud may be loosely translated as The Patsy or Dumbo. It relates the story of a simple-Simon, patsy-type character, played admirably by the late André Bourvil, a French actor who excelled in slapstick comedy but who could hold his own also in dramatic roles, (e.g. Le Cercle Rouge, in which he plays the cop [the "good" guy], opposite Gian Maria Volonte in the role of the "bad guy" and Alain Delon as the "ugly" one). Le Corniaud is tricked by a (comical) crook, played by Louis de Funés, into driving a "hot" 1964 Cadillac De Ville convertible from Naples (Italy) To Bordeaux (France). The patsy is pursued all the way by (equally comical) gangsters. Some of the movie dialogue is hilarious, like the time Bourvil picks up a shapely, female Scandinavian hitch-hiker with an unpronounceable name. When he asks her to spell it out, he says [in French]: "Vous m'épelez"[i.e. can you spell it out for me], which sounds much like "Vous me plaît" [i.e. a deformation of "vous me plaisez" - I like you], she replies coyly, with her Swedish accent and poor grammar, "Vous me plaît aussi, Monsieur" [I like you too, Sir]. I wonder if the movie was ever dubbed in English and, if so, how the translators got around that difficult pun!?!?].

In the movie, the bumpers of the Cadillac are cast in solid, chrome-plated gold, narcotics are hidden in the rear fenders, there are stolen jewels and precious stones in the false bottom of the car's battery ...that gets thrown off a cliff into the Mediterranean sea during a particularly funny scene; the dope (cocaine, heroin?) creates a smoke-screen behind the car, when the gangsters riddle it with machine-gun fire during a memorable chase. Lastly, a precious diamond, the Yoo-Koon-Koon, is hidden under the horn button ...which gets stuck, right in front of the police station in Carcassonne, France. And so the bad guys get caught. A hilarious comedy from start to finish.

I recall, the movie car was given away, in the early nineties, as a prize in a lottery or quiz show competition by one of France's sponsored TV channels, so it probably is still around today. Late Extra (Feb. 2002): This car (or one very similar to it) was advertised for sale, in France, in the specialty magazine Rétroviseur. I called the vendor but he could not affirm that this was THE car from the movie, although it was in fact the same color (inside and out) and had two non-original rear fender spears on the lower rear fenders where the car may have been damaged (with bullet holes) during the shooting of the movie (notice the black spot on the lower rear fender in the RH photo, below, and the non-original rear fender molding in the 3rd row photo).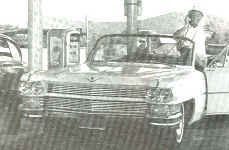 This B&W still shows the Caddy at a filling station on the return trip
to France; next to it [far left] is the green, 3.8 liter Jaguar driven by "the bad guy",
Saroyan [alias Louis de Funés]. Here we see the patsy talking to Saroyan
on the car's portable phone, believing him to be in his office in Paris, whereas
in fact he is hiding under a blanket in the Jaguar, only six feet away !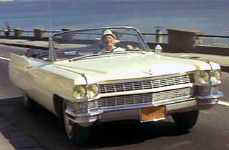 The movie is worth seeing if only for the scenery; the Mediterranean coastline, from Ostia
(Rome's seaside resport), north to the French/Italian border at Ventimiglia, is superb.
Gita and I drove that same route on our honeymoon, in 1972, in our '64 Sedan de Ville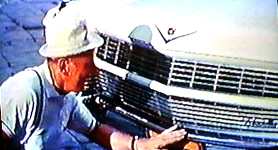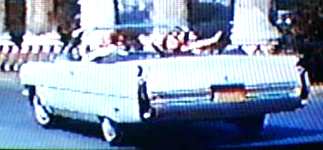 Left: Bourvil inspects Italian repair job [solid gold bumpers replaced with stolen, regular chrome bumpers]
Right: Cute Italian manicurist takes hero on tour of Roman archeological sites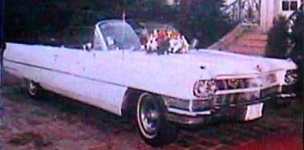 This is the car that was offered for sale in France in February, 2002;
wheel covers appear to be non original (the movie car had the correct ones)
Corvette Summer [1976] starring Mark Hamill

- Enthusiast Brad Faul sent these pics and information about the movie. It a number of Cadillacs. The first one is a 1959 model that pulls up into a gas station and the owner tells "Kenny" (Hamill) that his car is in Las Vegas. There's a couple of 70's Cadillacs, and even a '56. When Kenny gets to Las Vegas and sees the car in question isn't the one he's looking for (it turns out to be a Datsun 280Z), a hooker asks what's the matter, and he says (almost ready to cry) "They said it was a Corvette." She replies, "You'd think they'd at least have a Cadillac!" Lots of neat old cars in this movie.

[ photos]

Coupe de Ville, starring Patrick Dempsey

- 1954 convertible; the photo below was sold recently on Internet and shows the actor Patrick Dempsey and the movie co-stars. The car was described in the vendor's ad as a 1962 model. [LATE EXTRA (6/2001)] in fact the car is a 1954 model! A member of the CLC correctly identified the movie and the car.
Cousin Vinnie, My

- in this American comedy, set in the South, the hero drives a 1963 Series 62 Convertible
[Late Extra (6/2001)] A member of the CLC believes the convertible in this movie is a 1962 model, not a 1963. [Late Extra (1/2003)] CLC member, Rob Gerace says: It was a '62 convertible that Joe and Marissa drove in the movie. When they're driving away at the end, you can get a good look at the taillights which set the '61 and '62 apart.
Crazy in Alabama, starring Melanie Griffith, Rod Steiger, Richard Wagner

- lots of 1962-63 models, but especially a gorgeous '63 series 75 limousine with
non-original sun-roof and fitted with '66 wheel covers.

Cry Baby, starring Johnny Depp, Amy Locane (1993)

- In this teeny-bopper movie, set in Baltimore, Johnny's girlfriend's mother is not "hip";
she's a "square" because she drives a 1955 Cadillac; I believe it's a Series 62 convertible

Daddy Long Legs, starring Fred Astaire

- features an early fifties Series 75 sedan or limousine with custom, fast back styling

Dance Girl, Dance

- CLC member, Barry Wheeler was watching this old B&W movie from 1940 and espied these two Cadillac-LaSalle models: 1938 Cadillac style 6019S (driving) and 1940 LaSalle style5219. Thanks again, Barry.

Dazed and Confused

- CLC member, Brad Faul, sent this one. It features what appears to be a '74 De Ville series coupe. In another scene you can glimpse a '67 Cadillac

Death Wish 2, starring Charles Bronson

- In this version, a baby blue '71-72 Eldo coupe belonging to the bad guys, ends up going over a cliff

Death Wish 3, starring Charles Bronson

- Our hero, Paul Kersey, buys a white '77-78 Seville as bait to trap some of the bad guys; they steal his car radio;
he shoots them ! In another scene you can catch a glimpse of a very rough '70 Cadillac front clip

Deer Hunter, The, starring Jon Voigt, Robert de Niro, Christopher Walken

- In the opening scenes, the deer-hunters [future Vietnam veterans] tool around in a white
1959 Cadillac Series 62 coupe
Deliverance, starring Jon Voigt and Burt Reynolds [1972]

- A 1965 ambulance on the Cadillac commercial chassis makes a brief appearance
Delta House

- I watched a re-run of that movie in July 2000 and noticed the black 1959 Series 62 convertible, complete with parade boot

Diamonds are Forever, starring Sean Connery as James Bond [1971]

- a black 1968 hearse makes an appearance
Diner, by Barry Levinson, starring Mickey Rourke, Kevin Bacon, Steve Guttenberg

- a black '59, Series 62 convertible makes a brief appearance [saw it on TV last week]

Doc Hollywood, starring Michael J. Fox

- In this movie, Michael's girlfriend drives a Cadillac (year, model ???)

Dolce Vita, La, starring Marcello Mastroiani and the curvaceous Anita Ekberg [1960]

- This black and white Federico Fellini classic features a 1958 Series 62 convertible
Doolittle's Raiders, starring Alec Baldwin, Ben Afleck, Josh Hartnett

- I caught the movie in the middle (on ABC, Sunday 2.8.04); during a dialog between Ben and the lead female role, at a gas station, there is a '40 LaSalle in the background. Just thought I'd mention it even though it plays no role in the movie.

Double Indemnity

- Enthusiast John W. Rauscher, a visitor to the Database "Guest Book" in January, 2004, says that a nice 1937 La Salle sedan appears in several long shots in this movie (no other details available).

Down with Love, starring Ewan McGregor and Renee Zellweger

- a 1960 model is featured as a backdrop to one scene

Dr. No [the first of a long series of James Bond movies, starring Sean Connery and Switzerland's Ursula "undressed" Andress]

- This from Database user Glenn Ludgate: Do you know what happened to the La Salle Hearse from Dr. No ? Barry Wheeler of the Cadillac-LaSalle Club, Inc. tells me the car is a 1940 model

- And this from our translator, Philippe Ruel, in the Ivory Coast: The La Salle hearse in that movie ends up in a ravine; I wonder if anybody went to pick up the pieces; when that movie was made (in 1962) that car was just another "old car" destined for the scrap merchant. BTW, at the beginning of the same movie, you can see a 1959 model in the airport parking lot.

- Now this [5/12005] from movie buff and Cadillac aficionado, Bob Evans, from Tampa, FL: The 1940 LaSalle hearse in "Dr No" turns into a British hearse when it goes over the cliff. I rented the video to verify it. You have to play the video on slow motion to catch it.

Dream Girls, starring Jamie Foxx, Eddie Murphy [2006]

- This from CLC member Harry Carlson: Hey, I just saw the movie "Dreamgirls" and it is a hoot not just for lovers of Detroit style soul music, but also for Cadillac lovers! Lots and lots of 60s and 70s Cadillacs are shown, driven, featured, and sung about! A pleasant surprise. The character played by Jamie Foxx sells used Cadillacs until he breaks into showbiz. When he meets the character played by Eddie Murphy, Murphy says, "Hey, didn't you sell me my Cadillac?" Then Jamie Foxx's character sells his Cadillac inventory to finance the record venture. Then his songwriter writes a hit song about Cadillacs. Pretty soon they are all driving Cadillacs. One character does a snow-sliding U-turn on a bridge in his 62 (I think?) Caddy when their song fadees out on the radio, so they can go back and keep listening to it! Oh, yeh, there is music too.

Can't wait to see this movie, Harry. It was supposed to air in Columbia, SC, last month. I guess they are running late.

Driving Miss Daisy, with a brilliant performance by Morgan Freeman as the chauffeur

- This from Database user Bill Shepherd: Now that I've had a chance to re-watch the movie Driving Miss Daisy, as I indicated I would, I can update the Cadillacs shown in the film: Miss Daisy owned a '55 Cadillac Fleetwood Series 60S, followed by a '65 Cadillac, and then a '70 Cadillac [Yann added: in one scene, you get to see only the tail-end of that car sticking out of the garage at a time when the '65 Calais is still in use]. I don't know which series the last two were, but she always had a 4-door sedan. Her son Boolie owned a '48 Cadillac followed by a '57 Eldorado Brougham. I suspect that the '48 was a 2-door. In keeping with real trends, his last car was a Mercedes sedan (ugh!). Maybe fans of the other indicated years could give you a better indication of the particular model in the movie.

- and this from Cadillac owner and friend, Jay Friedman of Atlanta, GA: ...various
Cadillacs were used in the film Driving Miss Daisy, including a 48 Cad 2 door belonging in the film to the character Boolie, Miss Daisy's son (played by Dan Akroyd). Actually, the car in question was my very own '49 Sedanet, whose grille and other '49 features were cleverly disguised by simply never pointing the camera at them. The film was made near our house in Atlanta in 1989 and the production company kept our car for 6 weeks. It appeared in 3 or 4 scenes and Elaine [Jay's wife] and I were invited to witness the filming of one of them in which Akroyd and Morgan Freeman drove up to Miss Daisy's house; it was a lot of fun.

And this from Rick Statham: I owned the 1955 Cadillac Fleetwood Series 60 Special that was used in the Movie Driving Miss Daisy filmed in Atlanta. If you will notice carefully in the movies, a Series 62, 1956 Cadillac sedan was used as a double in distant shots. I also had two 1964 Fleetwoods in the movie as well - one black and one gold.

This too from Joel Braudrick, another Cadillac enthusiasts and Database visitor: thought you would like some friendly info on Cadillacs in the movie Driving Miss Daisy. The 1965 Cadillac Sedan was a Calais model. I did some checking and I found this to be true because of the seat pattern, used only in the Calais model that year [source: the 1965 Cadillac Data Book]. Thanks for the info, Joel. It's indeed a Calais sedan, even though the script nameplate on the extremity of the rear fender is missing in the only side-view of the moving car.

In the scene where Morgan Freeman buys the old Hudson Commodore from the Cadillac dealership where he takes delivery of the '55 Cadillac 60S, there is another, blue, '55 Cadillac model on the showroom floor; I didn't quite catch the model.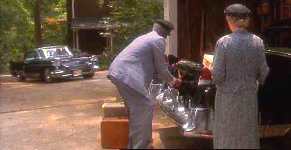 Left: CLC member Jay Friedman's 1949 Sedanet
Right: Miss Daisy's son turns up in a spanking new Eldorado Brougham
( believe that car too belonged to the late Dr. Alan Lease, former CLC member from the Peach State region)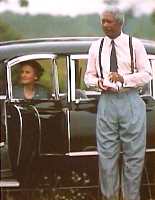 On the road in Miss Daisy's
1955 Fleetwood Sixty Special sedan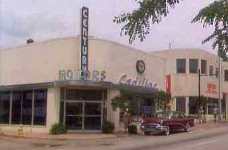 (Left) The 1965 Calais sedan was still in service when Miss Daisy got the 1970 Calais (garage, right)
Right: Boolie's Century Cadillac dealership; outside stands a 1955-56 Buick
Elizabeth Taylor Story

Movie buff and Cadillac enthusiast, Chris Platt, says that in this movie are prominently featured a 1949 and a 1959 Series 62 convertible. Other Cadillacs also appear in the movie.


Elvis has left the Building, starring Kim Basinger, John Corbett and a pink '73 Eldorado (a film by Joel Zwick)

I have not seen the movie

En Cas de Malheur, starring Jean Gabin [50s]


Series 62 sedan

Enforcer, The, starring Clint Eastwood [1976]

- A 1968 Series 75 limousine is the bad guys' car

Eraser (The), starring Arnold Schwarzenegger

- Johnny, the repenting bad guy has a 1972 sedan
Escape From L.A., starring Steve Buscemi, Kurt Russell, Pam Grier

- 1959 Cadillac Series 62 convertible (red) [possibly a coupe with a top chop] and 1965
ambulance on Cadillac chassis
[info from Irwin Kho, Philippines]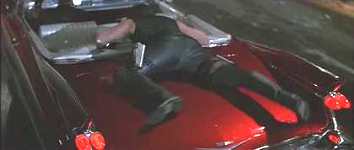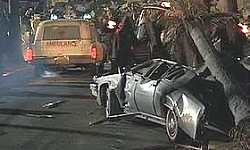 [ Info and (cropped) movie stills from Irwin Kho, Philippines ]
Escape From New York, starring Kurt Russell and Lee Van Cleef (1981)

- 1977 Fleetwood Brougham; this is an American science fiction action film co-written, co-scored, and directed by John Carpenter. The film is set in a near future .


1977 Fleetwood Brougham with "fancy" chandelier front fender lights

Every Which Way but Loose, starring Clint Eastwood and Sondra Locke

- In this comedy about illegal bare-fist boxing, the "bad guys" are seen,
at the end, driving in a white, custom four-door 1959 Cadillac convertible

Evita, starring Madonna

- Juan Peron's "official" car is a 1941 Cadillac Series 6219D.

Family of Cops, starring Charles Bronson

- Some of the bad guys in this nineties movie blow up a 1965 or 1966 Fleetwood Sixty-Special or Brougham

Fandango, starring Kevin Costner

- 1959 Coupe
Fantômas, classic French drama starring Jean Marais, Louis de Funés and Mylène Demongeot

- Sincere thanks to my friendly "translator", Philippe Ruel, for the following info [that I had to translate myself, Philippe!!!] and some great stills from the movie (wish I could get more like it for this popular Database page!): While playing this DVD on my computer, I discovered I could capture still frames. The movie is called "Fantômas"; it was directed by André Hunebelle. Featured are a black, 1951 Series 62 sedan (chrome rocker moldings, egg-crate trim below headlights, "square" trunk); this one is used for a car chase that lasts quite a few minutes; the driver rolls the car ...which then turns into an equally black 1950 Series 60 Special (rear fender louvers, plain trim below headlights, smaller impact guards); the movie producer did not even bother to change the license tags. Funnily enough, the 60S appears to have been used for the interior shots before the accident (1950 seat trim); the car seen after the accident has the tan seat trim. In the mid-sixties, these Cadillacs were considered "old cars", just good for such crash scenes. I'm happy mine survived! The stills below are from the movie [they are EXCELLENT, Philippe]: first the 1951 Series 62 sedan licensed 2145QJ75 (Paris, early sixties), with gray or light blue vinyl (?) trim; the car is said to be armored; the heater pull-switch releases gallons of oil on the road (a classic trick); Jean Marais has his back to the camera and you can see Louis de Funés. The 1950 Series 60 Special, used for the crash scene is licensed 3132E75 (probably authentic and dating back to the beginning of France's current licensing system which began on April 1, 1950). That car is trimmed in tan Bedford cord. One still shows Marais and De Funés just after the crash.
Fantômas, by André Hunnebelle
["fantôme" is the French word for "ghost" or "phantom"]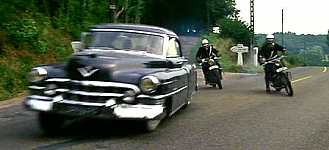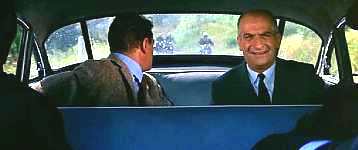 (Left) French "motards" [mounted police] pursue the bad guys' 1951 Cadillac Series 62 sedan in which the
"good guys" - Jean Marais (left) and Louis de Funés (right) - are being held prisoner; at right, the interior
of the alleged "1951" Cadillac looks like a 1950 Series 60 Special [note broad, blue, shoulder-level bolster]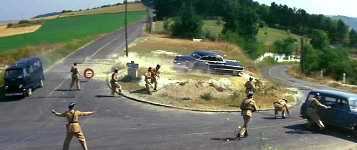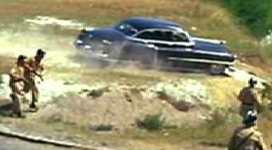 Despite a road block, the "baddies" still manage to evade the law!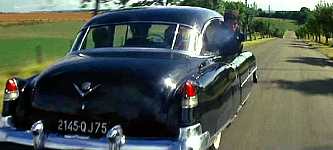 "Bad guy" on front seat of the Series 62 shoots it out with the cops...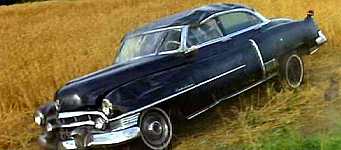 ...but the driver loses control and rolls the car, which mysteriously changes into a 1950 Series 60 Special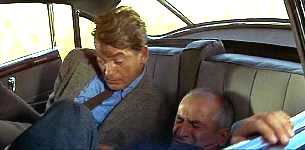 A shaken Jean Marais, center, and Louis de Funés, lower right
In this image, the seat trim is that of a 1951 Series 62 Cadillac sedan
even though the car that rolled is a 1950 Series 60 Special
It's called "artistic license"
Fast and the Furious, The

- According to Cadillac buff Cory Heisterkamp of the Cadillac Mailing List (CML), this remake of the movie features a late model Eldorado

Father of the Bride, starring Spencer Tracy and Elizabeth Tracy

- Possibly the same Series 75 limousine as used in the movie Harvey (below), is used in the wedding getaway scene.


Father's Day, starring Robin Williams and Billy Crystal [1997]

- Features a bronze/gold colored '68 Eldorado coupe

Fatherhood, starring Patrick Swayze and Hayle Berry

- black 1972 Eldorado (I had this listed earlier as a 1971 model but stand corrected by Database user, Chuck Noppe, who writes: "I have been renting many movies to see the Cadillacs in them! I just finished watching Fatherhood with Patrick Swayze and was delighted to find that the car in it was actually a '72, which is the year I own, and not a '71. The '72 has Eldorado scripts above the cornering lamps and a bold, vertical textured grill. In the movie, Swayze is overheard to say: I hate foreign cars (referring to a BMW)!

Fear and Loathing in Las Vegas,

- Database visitor Ólafur Gunnarsson mentioned this movie, which he says features dozens of Cadillacs. One of them is a 1971 Eldorado convertible that gets trashed

Félins, Les [Joy House (USA), Love Cage (UK)], starring Alain Delon and a young Jane Fonda

- Members of the Mob, out to get Alain Delon's head for having an affair with the wife of a Mafia Don, hunt for him around around Nice and Monaco on the Cote d'Azur in a black [I guess] 1958 Series 60 Special [the movie was in B&W - it may subsequently have been colorized]. This is a THRILLER; well worth seeing ... again! Other interesting photos include a 1958 Chevrolet Bel-Air convertible and a rare 1956 Rolls Royce Silver Wraith with a Plexiglas top (lower three photos).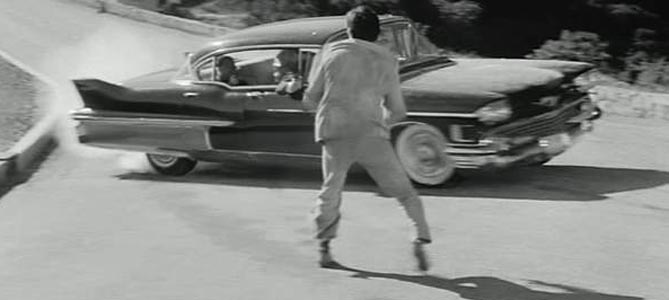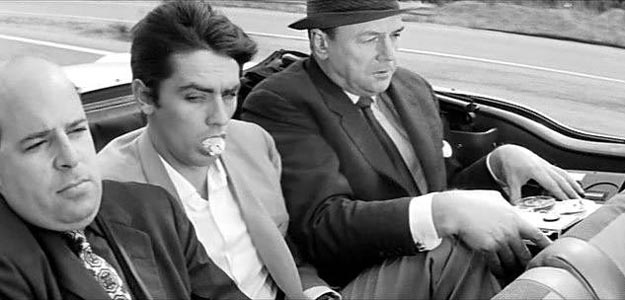 Left: 1958 "Sixty-Special"; playboy, Delon (or his stunt double?) leaps out of the way of the gangsters' Cadillac
Right: 1958 a gagged Delon gets taken for a ride in this Chevy ... from which he is able to escape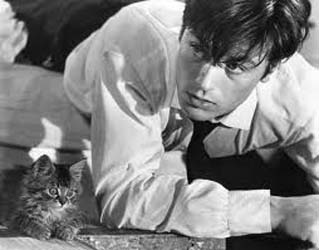 The movie ends here ... you HAVE to see it !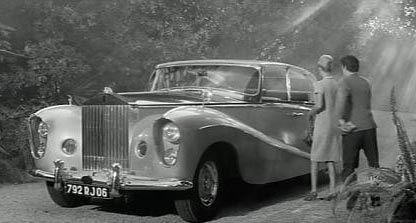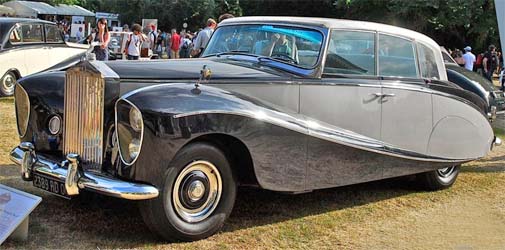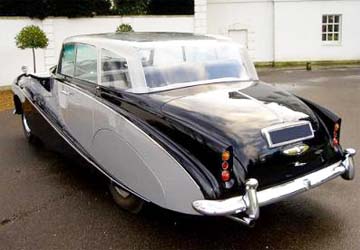 This custom, long wheelbase 1956 Rolls-Royce Silver Wraith (4,9 litre engine) with Perspex top was featured in this 1964 movie. It was commissioned from Hooper by Armenian-born
playboy tycoon, Nubar Gulbenkian (1900-72) who lived in Paris' Ritz Hotel. Gulbenkian was a well-known figure about town, wearing an orchid in his buttonhole and using a monocle.
Fletch Lives

- 1959 Cadillac

Finding Graceland, starring Harvey Keitel and Bridget Fonda

- The movie starts off with a man and wife in a 1959 Cadillac, trying to race a train to a railroad crossing; the attempt fails and the wife is killed. The man continues to drive on to Memphis, minus one door on the car; en route he picks up an Elvis Presley lookalike hitchhiker. The movie also stars a Marilyn Monroe lookalike [Bridget Fonda]. Movie buff, James R. King, adds: The big Cad in this movie belongs to Dr. and Mrs. Chumley. Dr. Chumley is the operator of Chumley's Rest, which is the rest home where the sister of the James Stewart character wants to send him. Philippe Ruel (French Cadillac buff and buddy) adds: the car skids out of control right in front of a cop car and suffers some damage that gets repaired/restored free of charge by an Elvis fan, in just one day!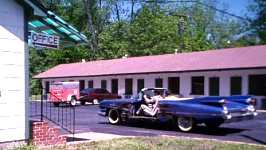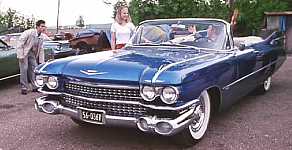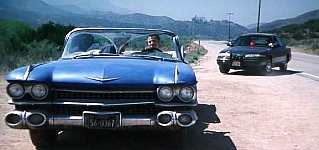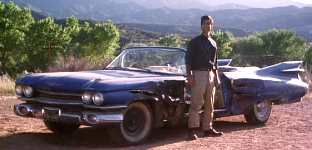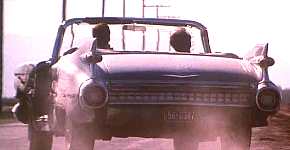 Movie stills supplied kindly by my friend Philippe Ruel
(I'm not sure of the proper order, but you get the picture, right?)
Fine Mess, It's a, starring Ted Danson, 1986

- This from "Matt", CLC member and Cadillac (movie) enthusiast: There was a very funny movie called "It's a fine mess", about a bunch of mobsters at the race track. One of the tough guys has a red on white '76 Coupe Deville which gets stolen and then he buys a new gold Seville and while he and his pal are looking at the makeup mirror and fussing over the new car smell, they run a red light and ram right into his own stolen 76 Caddy coupe! This movie is very very funny!

Forrest Gump, starring Tom Hanks

- In the scene where he's just handed the football & told "Run Forest, Run!" by his teammate, look in the background; on the sideline there is a red 1963 or 1964 Cadillac in the shot for a brief moment. Only the driver's side is shown from the bumper to about mid door. Another car reported to have had a role in the movie from this movie (1947 Series 60 Special) was offered for sale on e-Bay (1/2002)
Forty-Eight Hours, [and "Another 48 Hours", above] starring Eddie Murphy and Nick Nolte

- beat-up, baby-blue 1964 DeVille Convertible
Foul Play, starring Goldie Hawn and Chevy Chase

- features a 1974 Cadillac Limousine, and a spectacular chase between a 1974 Lincoln Town Car and a 1972 Cadillac Airport Limousine [info from CLC member, Dave Smith, January 2003].

French Connection, [the sequel] starring Gene Hackman

I watched a re-run last night [Jan. 24, 2002]; although the car star of the movie is a brown Lincoln Continental, the bad guy also uses a chauffeur-driven '70 Fleetwood limousine to get to Washington D.C. Hawk-eyed viewers also will have caught a brief glimpse of the tail-light of a '70 professional car (ambulance?) at an accident scene.

Get Carter, [remake] starring Sylvester Stallone

- Stallone drives an STS in this movie ...even out-runs a Jaguar! An online review for this
movie commented: Stallone REALLY likes the Northstar System. Ask Jack Carter what he does for a living, and he'll explain he's a "financial adjuster"; pay what you owe or Carter will adjust your arm, nose or spleen. Thugs and killers may see Carter coming, but it's already to late to get out of his way.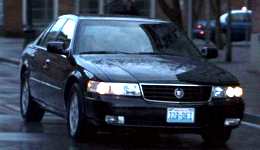 ™ & © 2000, Carter Productions LLC
Getaway, The, by Sam Pekinpah

- unidentified Cadillacs

Ghostbusters, starring Bill Murray, Dan Aykroyd and Sigourney Weaver (Ivan Reitman, 1984)

- A New York based team specializes in ridding buildings not of rats nor roaches ...but of ghosts and evil spirits. The service car they use is a modified '59 hearse. This information and the movie stills below were supplied kindly by French enthusiast Philippe Ruel.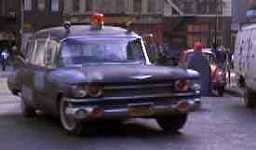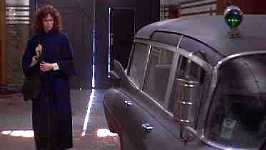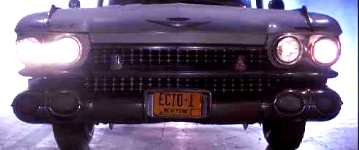 In the words of, Dan Aykroyd, the buyer, "Everybody can relax, I found a car! It needs some suspension work,
and shocks, and brakes, brake pads, linings, steering box, transmission and... How much?
Only forty-eight hundred... maybe new rings, also mufflers and wiring..."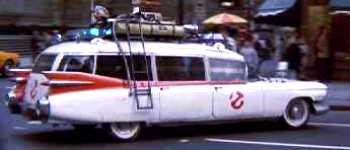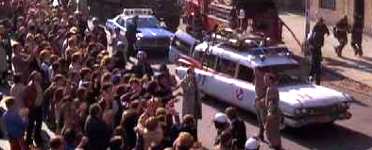 The first three stills show the derelict car just after Dan Aykroyd acquires it. After new paint
and fitting out with appropriate ghost-busting equipment the car takes on a quite different look.
The curved, rear corner windows and vertical "D" pillars strike of Miller-Meteor
Glenn Miller Story, The

- This movie features a 1941 convertible seen in many other Hollywood movies of the time. The great band leader's actual 1941 convertible currently is being restored. Originally, it was a special order dark green.

Gnomemobile

- finless 1958 Series 75 limousine

Godfather, The, starring Marlon Brando, Al Pacino, etc.

- Many Cadillacs of the forties and fifties are featured in this epic movie. In the early years, the Corleone family is driven around in a 1940 limousine; at a meeting of Mafia Dons, later in the movie, we see a string of sedans and limousines from 1955-56; in Don Vito Corleone's funeral procession are three Cadillac flower cars; when Al Pacino (who plays the Godfather's youngest son) returns from Sicily, where he has been in hiding, he goes to meet his wife, Kay, in a 1948-49 Series 75 limousine. This is a "must-see" movie for any self-respecting fan of 40's and 50's Cadillacs.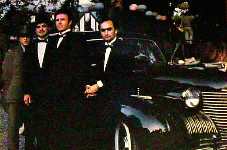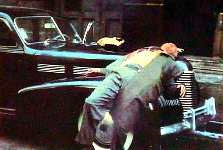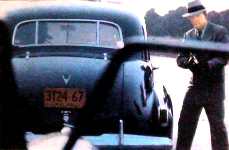 The "family": Brando and sons with plush 1940 Series 75 limousine (left)
Brando gets gunned down while shopping and sprawls on the hood of his limousine (above, center, and below)
The "bad guys" who shoot Sonny (James Caan), in 1946, drive a 1940 Series 62 sedan (right)
Correction (submitted by movie buff and Cadillac enthusiast, Terry Wenger (Feb. 2007):
In the movie section, The Godfather, both the Corleone Family car and the car of the bad guys that shot Sonny were
1940 Series Sixty Specials, not a "75" nor a "62". The family car was a nice one and the other was unrestored.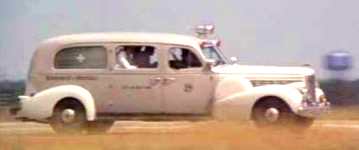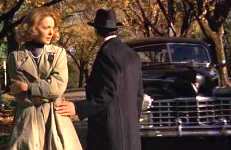 (Left): This 1937-38 La Salle ambulance conversion makes a speedy getaway !
(Right): The Godfather meets up again with Kay, his wife while the driver keeps the '47 limousine close at hand
These are scenes from a Godfather sequel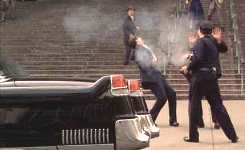 1955 Series Sixty Special sedan1 outside the courthouse steps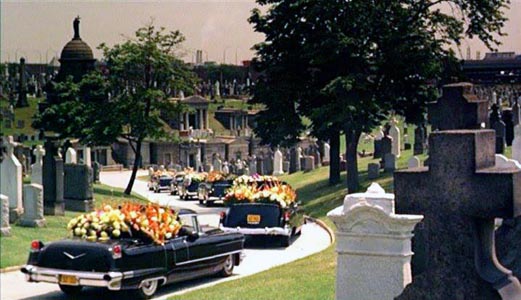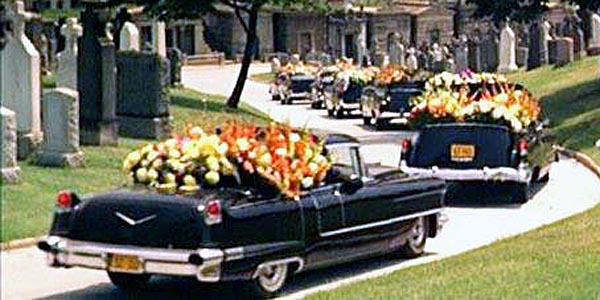 A procession of fifties funeral vehicles (two '56 models stand out);
the one in the foreground appears to be a conversion from a regular sedan

1 [Footnote and movie trivia]: Alan Boorstein has been a fan of the Cadillac Database for a very long time; he says he has it bookmarked on his computer and comes back again and again. In June 2009, he was looking at this page and came across the 1955 Series 60 Special from "The Godfather" sequel. In the scene you see the rear clip of the car and a gangster being shot on the courthouse steps. According to Alan, the car used was a custom made version for the composer, Cole Porter. He had this car shipped to him in France, used it for one year and then gave it to his housekeeper. Cole Porter apparently ordered a new Cadillac every year and none of them had the Cadillac badge, logo or "V" emblem on the hood or the trunk; he believed that they spoiled the beauty of the car.

Godfather II, The, starring Al Pacino, etc.

- Quite a few more Cadillacs in this sequel. The most noticeable of the bunch, in terms of rarity, is a 1956 Fleetwood 75 formal limousine converted by Derham. It is parked outside the Washington Hotel in NY [rear, RH view] when Kay goes there to meet her husband (Al Pacino) and admits to having had an abortion.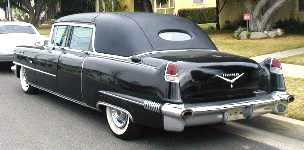 [ not THIS car, but one very much like it ]
Goldmember, starring Austin Powers

- The hero has a pimped-out 1975 time machine

Gone in 60 Seconds, starring Nicholas Cage, Angelina Jolie, Giovanni Ribisi and Robert Duvall

- Car thieves steal a 1983 Eldorado. A cop who has been following the gang happens upon the car in their body shop and asks them where they got it. Robert Duvall replies, "Someone brought it in for restoration," to which the cop asks, "Who restores a 1983 Eldorado?" [from Cadillac buff, Derek Sherwood]

- These complementary comments by French movie buff and assistant Database translator, Philippe Ruel: here's another pic of the '83 Eldo for the site; in the movie, the car is stolen in Chinatown because the keys are in the ignition; there is a bag of heroin in the trunk! The gang leader says to the punk, "You never considered why a car in a neighborhood like that had its keys left on it ? Because nobody in this neighborhood would be stupid enough to 'chatter' with this car at all !". BTW, the gang's mission is to find and steal 50 expensive cars in one night; the list is put on a blackboard, each car being given a code name; there are four Cads on it: 'Madeline', a '59 Eldorado (but they show a regular coupe in the movie), 'Patricia', a '58 Eldorado Brougham (not seen in the movie), ''Carol', a '99 Escalade and 'Daniella', a '99 STS. Also seen in the warehouse where the gang congregates, a 1938 La Salle coupe in need of some restoration. Great report, Philippe ! Good pics !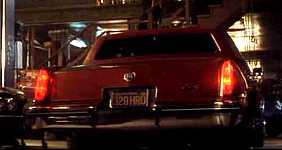 The '83 Eldorado with the 'Family' heroin stashed in the trunk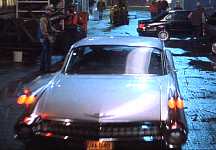 The supposed stolen '59 Eldorado Biarritz is in fact a regular Series 62 coupe in the movie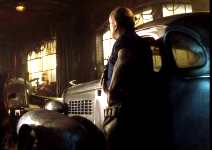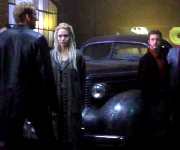 The 1937 La Salle coupe under restoration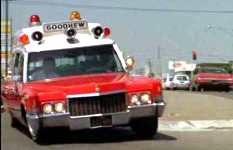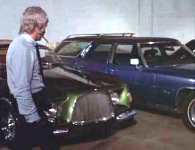 (Left): 1970 ambulance (probably a Superior model with some extra lights and sirens)
(Right): Sussing out a nice 1972-73 Cadillac custom wagon, probably a model
by R.S. Harper or American Sunroof Corporation (ASC)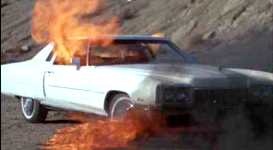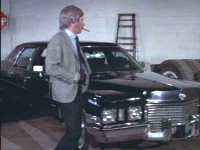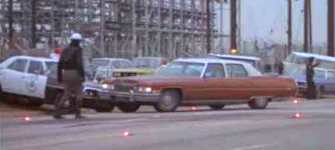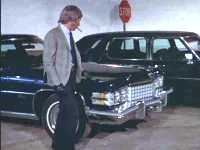 Above two rows: (clockwise) more featured Cadillacs from the movie, a burning 1971-72 Eldorado, a Series 75 limousine
from 1972, the same model (or possibly a Cadillac Talisman) from 1974, and a 1973 Fleetwood Brougham or similar

[ All images © 2001, Touchstone Pictures ]
Goodfellas, starring Robert De Niro

- It's about a boy who grows up with gangsters and eventually becomes one of them. The main character tells his story. He tells about his job when he was 15 or so: Where I worked, there were a lot of gangsters. They always let me park their Cadillacs. I'm a little boy, too young to drive, I can barely see over the wheel, and I'm parking Cadillacs! [not an exact quotation]. This is being told while the boy gets into a huge Fleetwood Series 60 Special (1948 or 1949, not clearly visible) and parks it. Movie also features a nice 1978 Phaeton coupe (copper colored with a matching interior and brown top) belonging to Henry Hill [Ray Liota]. A very nice 1976ish white Coupe DeVille also appears in the movie [that Morrie bought] [info from Craig M. Seman] Also, 1955ish 2dr [at the beginning of the movie, shot at night], 1970 or older Coupe de Ville, white with black top [could only see the back, parked by the club], 1975 Sedan de Ville "limo" [in which Ray Liota rides to prison], 1980ish ?4dr? gray [the car in which Morrie is killed (amazing what you can do with a screw driver)] and a white 1985 Eldorado Biarritz [Tommy's mom had it].

This contradictory info just in from another movie buff and Cadillac enthusiast, Matt Smith: Hi I was checking out your site (cool site by the way) and noticed some mistakes for the GoodFellas movie. The Coupe De Ville in the movie is not bought by "Morrie", but by "Johnny Roast Beef" for his girlfriend/wife (?), it is a 77-79 model, and it is pink with a white vinyl top (probably a 78-79, but maybe a 77; I can't remember how the taillights look!) They end up being found dead in it. The limo that Henry Hill goes to prison in is more likely a 1974 De Ville, as it has round headlights; 75's had square headlights. The car Morrie is killed in with the ice pick is a pre-1980 Seville, 4-door, black over silver. I am not sure of the year of the Eldorado Biarritz, but in the movie it had to be a 1979 or 1980 model since that part occurred before 1980, I think. And the coupe that Henry drives IS a phaeton, probably a 1978 model, I can't remember if they had 1979 models. Notice the after-market third brake light in the back window. hope all this helps. Great database!!!
Great Balls of Fire, starring Dennis Quaid and Wynona Ryder

- In this story about Rock 'n Roll legend, Jerry-Lee Lewis, were three notable Cadillac models: a reddish-orange 1958 Eldorado Biarritz (acquired from Jerry's royalties on his first major musical hit, Great Balls of Fire, followed by a baby-blue 1957 Eldorado Biarritz, to celebrate his next musical and movie success, High School Confidential and (briefly) a 1958 Series 75 limousine in which he and child sweetheart, Myra, escape from a horde of adoring fans following a live concert appearance. In reality, Jerry-Lee is known to have had a 1958 Series Sixty Special sedan [see Stars and Personalities section].

Groundhog Day

- there is a scene in which a 1974 Eldorado is driving on railroad tracks, followed by a police pursuit vehicle. The Cadillac ends up trashed. A 1979-80 Eldorado also makes a brief appearance.
Hail, Hail, Rock 'n Roll

- 1977 Fleetwood; the movie celebrates rock legend Chuck Berry's 60th birthday. The car color is burgundy Firemist and it has a Rolls Royce type grille, steamer trunk straps on the boot, black vinyl top and luxurious burgundy cloth interior; it used to have also locomotive air horns on the hood but these have been removed, although the holes remain! It has more recent wire wheels and Vogue tires. The car spent 10 years in Chuck's home in Hollywood, CA. It was offered for sale on the Internet in June, 2000, and came with an autographed photo, Chuck's personalized guitar picks and one autographed boxed set from Chess records.

Harold and Maude, starring Ruth Gordon and Bud Court

- A black comedy with a few macabre Cadillac hearses, the most notable being the teenager's' 1959 side-loader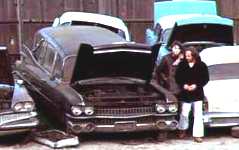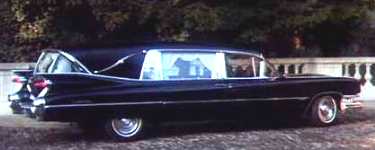 The restored 1959 hearse (a Crown Royal from the Superior Corporation)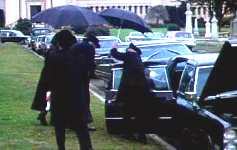 Funeral procession, with Cadillac limousines and hearses from the sixties and seventies
Harvey, starring James Stewart

- The family uses a post-war, Series 75 limousine


Heartbreak Hotel

- 1959 Series 62 Convertible

Helter Skelter [the Charles Manson Story]

- Seen on TV, June 2004; short scenes with '65 Cadillac ambulance and also a '61-62 model
in a gas station scene.

Here Comes the Groom

- Enthusiast John W. Rauscher, a visitor to the Database "Guest Book" in January, 2004, says that a 1937 La Salle convertible coupe (with top down) is featured in this movie (no other details available).

Highlander

- The Kurgan hauls through New York in a 1975-76 Coupe deVille

Hoffa, starring Robert de Niro
- Hoffa (De Niro) is shot dead, at the end of the movie, in a Fleetwood limo from the early seventies.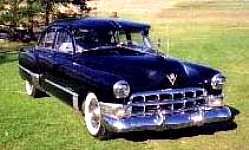 This 1949 Sedanet also had a part in the movie
Hole in the Head, A, starring Frank Sinatra (1959)

Movie buff and Cadillac enthusiast, Chris Platt sent in this movie title; in it, he says, Sinatra drives a '197 Series 62 convertible through most of the movie. There are also several scenes with other Cadillacs.

Holiday Inn, starring Bing Crosby

- In the movie introduction for White Christmas, a 1942 Series 67 sedan is seen in a parking lot.

Hollow Point, with Thomas Ian Griffith and Tia Carrere

- 1967 Sedan De Ville or Calais (white with black top)

Holly, Buddy [The Buddy Holly Story],

- I was watching a re-run of this B-rated movie on TV-TNT (1/2002) and was surprised to note that one of the scenes [about mid-way through the movie] was filmed inside the Cadillac dealership of Jack Goodman, in Texas; Buddy and the Crickets are seated in the updated [1959] edition of the 1953 Le Mans show car. In the background were also a silver-gray 1957-58 Eldorado Brougham (on the left), and a white 1954 Eldorado (on the right)


This rare, modified Le Mans roadster car is featured in The Buddy Holly Story
Hoodlum, starring Laurence Fishburne

- Unidentified model; movie was set in 1934; the car has suicide doors front and back;
has anyone seen the movie ?

Hot Spot

- 1959 Cadillac Convertible

Hud (1963), starring Paul Newman

- pink Cadillac convertible
Hulk, The, starring Eric Bana, Jennifer Connelly, Nick Nolte

- a role is played by a 1965 ambulance built on Cadillac chassis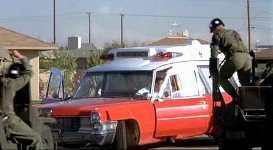 Movie tip and stills provided kindly by
Irwin Kho, Cadillac enthusiast from the Philippines
Hunger, The, starring David Bowie, Catherine Deneuve and Susan Sarandon

- They drive around in a '78ish limousine

Hurry Sundown, Starring Michael Caine

- Larry Good (CLC member #1737) writes: The movie Hurry Sundown with Michael Caine starred a '46 or '47 Cadillac convertible. I saw it when it first came out around 1968 and was quite impressed.

Continued in Part 2

(résumé en français)

L'un des sujets de débat qui revient souvent sur le tapis lorsque les membres du Cadillac Mailing List (CML) discutent entre eux, ce sont les nombreuses Cadillac qui ont tenu un rôle plus ou moins important au cinéma, dans des séries télévisées ou dans la pub à la télévision.

Le liste présentée ici est le fruit des recherches d'un collectionneur et ami de la froide Finlande, M. Kai Savolainen.

Il ne peut s'agir que d'un premier jet, car ces autos vont continuer longtemps à évoluer sur grands et petits écrans. Alors, si vous en connaissez d'autres, faites-moi signe.
Go to Part 2, or
Return to The (New) Cadillac Database© Index Page
or return to the "Miscellaneous Cadillac Stuff" index page
© 1998, Kai Savolainen and Yann Saunders
[ Background image: Paul Douglas and Judy Holliday in the 1956 movie The Solid Gold Cadillac ]