38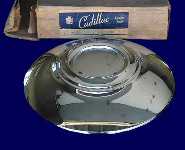 The 1946 hub cap is basically the same
as the 1941-42 model, above
39a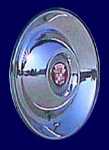 39b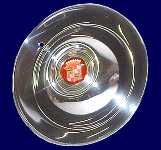 39c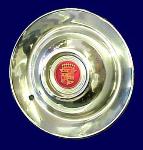 40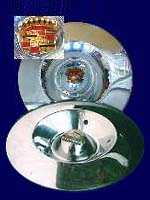 39a-b-c: The popular Cadillac sombrero wheel disc, made from 1947 up to 1952
40. 1953 full wheel disc; has center "moon" with attached convex crest
About the early "Sombrero" covers from 1947 to 1952, here are some interesting comments made by CLC members, Bill Ingler and Warren Rauch, on the Forum of the Cadillac and LaSalle Club, Inc., in late 2009. The images immediately below show the covers being discussed; they are not in the best condition:

Bill: The top cap could be a 47 cap as the 47 cap has a flat ring. The 47 cap has only one drain hole in the retainer ring on the back of the cap. The 48-52 cap has two drain holes in the retainer ring. The two holes could be side by side or 180 degrees apart. In 48 the wheel width was made larger to accommodate the new 820X15 tire. The 48 retainer ring then was made deeper by 1/4 inch to 2 1/2 inches to fully grip the wheel disk clips. A 47 cap will not stay on a 48-52 wheel but a 48-52 cap will stay on a 41-47 wheel, but the 48-52 cap will stick out about 1/4 inch from the rim. Many a full wheel cap for a 41-46 or a 47 sombrero has been lost because of being attached to 48-52 wheels. The original poster didn`t say the width of the caps but it could be the cap on the right is for a 16 inch wheel.

Warren: Between 1947 and 1952 at least four different 15 inch caps were used:

1) The 1947 cap with only one drain hole in the rear retainer
2) The 48-early 51 ( to serial #7000) steel cap with two drain holes
3) The late 51 - mid 52 cap stainless steel
4) Late 52 cap, still stainless (see April 52 Serviceman) with a deeper retainer to be used with the new wheels.



40a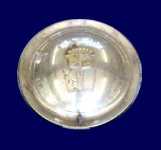 This cover was used on Continental
kits in the early fifties
41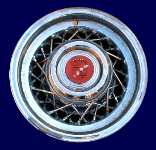 42a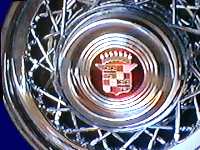 42aa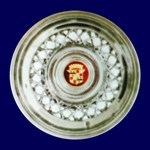 42ab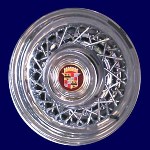 41/42a/42aa/42ab: Authentic wire wheel, was standard equipment on the
1953 Eldorado model and optional on the 1954 model
42b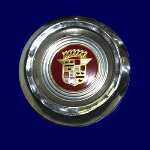 43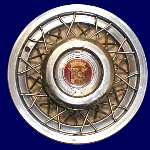 42b: Center cap or hub cap for both the authentic wire wheel and the simpler wheel cover
43. A similar styling effect was achieved with these cheaper, wire wheel discs, offered optionally from 1953 to 1955
44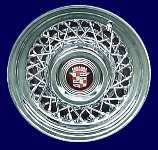 This authentic wire wheel is a not-quite-true
modern replica of the 1953 original
45
46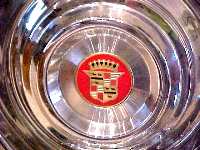 47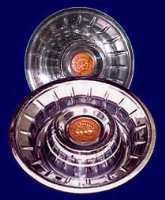 45 and 46: the full wheel cover and unique center medallion used in 1954 and 1955
47. One of my favorites are these 1956 covers; featuring the deepest dish of all post-WW2 covers

48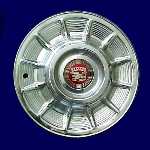 49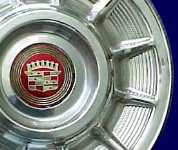 49a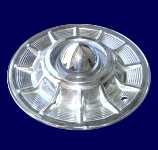 48 and 49: The "spoked" 1957 cover is the customizers' dream, hence its high value and relative rarity]
49a The 57 wheel cover after "customizing" [ here, the addition of a "moon" hub]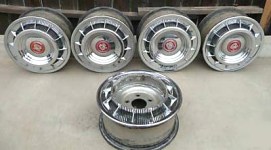 Set of five (5) cast alloy wheels for
the 1957-58 Eldorado Brougham
[ sold on Ebay, in March 2009, for $6,500 ! ]
50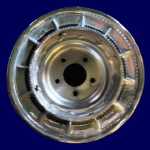 50a
50b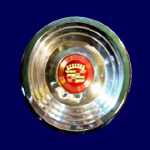 50c

50 Cast aluminum alloy wheel for the bespoke 1957-58 Cadillac Eldorado Brougham
50a. 1957-58 Eldorado Brougham turbine wheel, complete with center cap
50b. Wheel center cap for 1957-58 Eldorado Brougham turbine wheel
50c. The regular 1958 cover, with brass crest finished in full color
51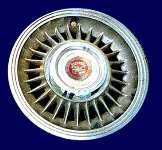 51a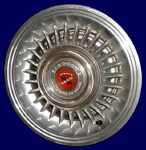 51b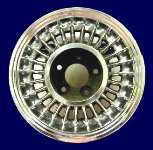 51b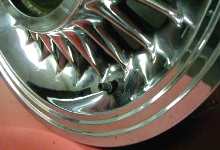 51. Cast aluminum-alloy, so-called sabre-spoke wheel, available for the 1955-1958 Eldorado models
51a. 2nd view, with center hub cap
51b. Full face view, without center hub cap
51c. Close-up of sabre spokes
52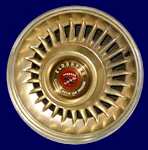 53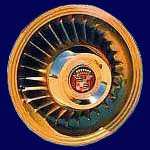 52. From 1956 to 1958 the cast wheels were available also in gold-anodized finish with matching gold center cap
53. A non-authentic (since) highly polished gold-anodized alloy wheel and center cap
54
55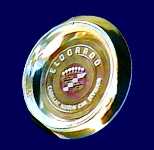 54. Center cap or hub cap for the basic aluminum sabre-spoke wheel [ image missing ]
55. Center cap in gold finish for the gold-anodized sabre-spoke wheels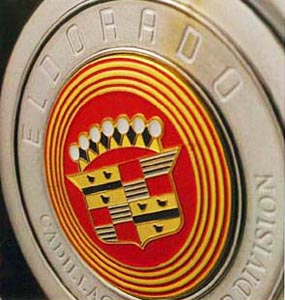 Better view of center cap
56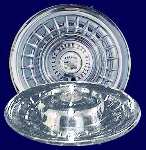 57a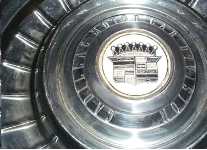 57b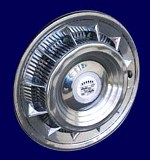 57c

56. regular 1959 covers [like 1958 but aluminum instead of brass for center crest, and no color];
57 b. 1959 turbine-blade cover for 60 Special and Eldorado models; 57c. 1960 turbine-blade cover for 60 Special and Eldorado models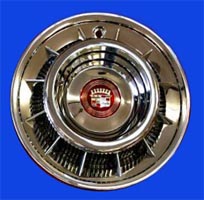 This one came up in 2012 for a 1960 Eldo convertible;
vendor described them as having "new centers", but
these are actually regular centers for 1957 Cadillacs
58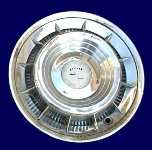 59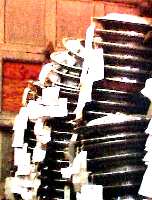 58. 1959 turbine covers, without the black painted rings in the center;
59. a stash of '59-60 Eldorado wheel covers located "somewhere in the USA"
[ I promised I wouldn't tell! ]
60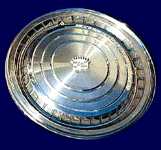 61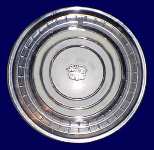 62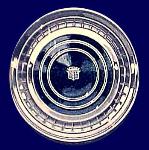 63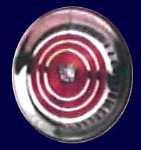 60 to 62: regular covers for 1960 models (except 60 Special and Eldorado); they were available in bare metal (satin) finish
or with painted center and concentric rings in either white (61) or black (62); the 1960 Data Book reads thus: New Cadillac
wheel discs feature a ribbed concave outer ring around a raised center hub with concentric rings of chrome and either white
or black enamel or brushed chrome as selected by the owners; at least one professional car maker offered color-coordinated
wheel discs, like this one (63), on their 1960 ambulance models
64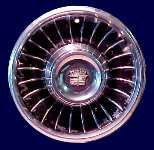 65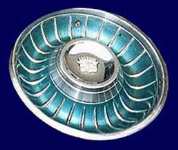 65b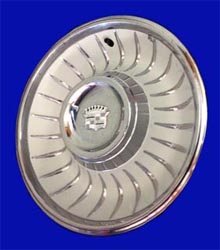 66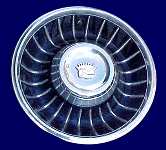 67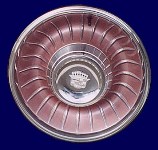 67a

Above: (64 to 67) four deep dish covers for 1961; in 1961and 1962, Cadillac wheel covers were available in plain
chrome finish or painted to match the color of the car; the Master Parts List for 1961 and earlier cars lists these
colors as being available: black (code #10 - image 64), white (code #12 - image 65b), platinum (code #14),
gray (code #16), blue (code #22), blue (code #24), blue (code #26 - image 66), turquoise (code #29 - image 65),
green (code #32), green (code #34), green (code #36), tan (code #44), beige (code #46), rose (code #48 - image 67),
red (code #50), blue (code #94), jade (code #96), gold (code #97 - image 67a), topaz (code #98) and pearl (code #99).

68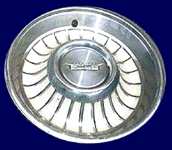 68: typical 1962 cover [note elongated crest compared to "square" crest for 1961]; like the 1961 covers, those for 1962
also were color-coordinated with the cars: ebony (code #10), Olympic white (code #12 - image 68), Nevada silver
(code #14), Aleutian gray (code #16), Newport blue (code #22), Avalon blue (code #24), York blue (code #26), turquoise
(code #29), sage (code #32), Granada green (code #36), sandalwood (code #44), maize (code #45), driftwood beige
(code #46), laurel (code #48), Pompeian red (code #50), Burgundy (code #52), Neptune blue (code #94),
Pinehurst green (code #96), Victorian gold (code #97), bronze (code #98) and heather (code #99).
69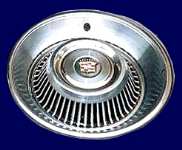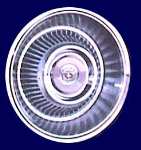 70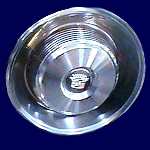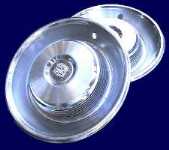 69: the 1963 and 1964 Cadillacs both used this deep dish cover featuring alternating black and chrome rib/stripes;
70: for 1965 Cadillac adopted a wider central hub decorated with concentric rings in lieu of the "spokes" of 1961 and 1962

71a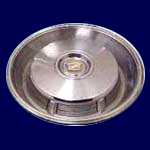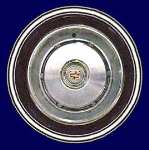 71b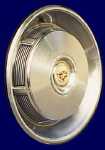 72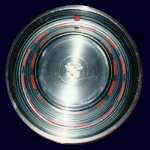 73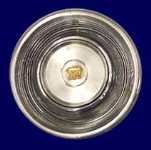 71a-b: Two versions of this 1966 wheel cover were made; the second, later version had 12, long, oval holes
around the base of the hub for improved cooling of the front brake drums; it was used also on the 1967 models;
72. This full front view of a 1968-69 cover shows cooling slits like those used in 1966 and 1967; 73. (same, without slits)

74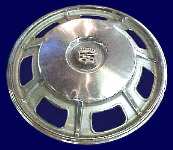 75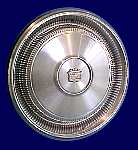 76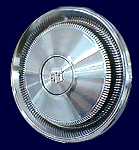 74. These super-sized, rectangular "holes" allowed a lot of air through to the brake drums on the 1967-and 1968 Eldorado
75/76. standard cover for 1970; with the exception of the concentric ring around the crest emblem, the latter is quite
similar to the covers used for the rear-wheel drive Cadillacs of 1974-76 [see below]
77 78 78a
77. Special wheel covers for the 1969-71 Eldorado model
78/78a. Once again a semi-spoked wheel cover, this time for the regular, rear-wheel drive models of 1971 and 1972

79 80
79. Modified version of the Eldorado cover of 1969-71; this models was used for the Eldorado of 1972-73
80. Eldorado cover for 1974-75 returned to spokes, although shorter than in 1969-71
81
82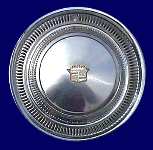 83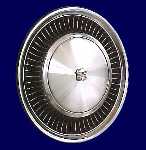 84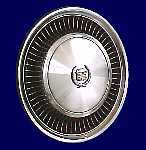 81. [missing image] totally smooth and shiny covers of the regular rear-wheel-drive models of 1973-74
82. Similar models for 1974-76 got these plain covers with rim "spokes", similar to the 1970 covers;
for those same years, the Fleetwood models got a wreath around the central crest emblem
83. the covers for 1974-79 were introduced in 1974 as standard equipment on the Fleetwood Talisman and Fleetwood Brougham
d'Elégance; the Turbine Wheel Disc was later called the Turbine-Vaned Wheel Disc; from 1974 it was available at extra cost
on the Fleetwood 75, Fleetwood Brougham, DeVille and Calais. In 1976 it became available on the Seville. There were two versions:
one without a wreath for DeVille and Calais (#83) an one with a wreath for Fleetwoods and Seville (#84).
This cover was last used in 1979; the special, bicentennial Eldorado models of 1976 had white centers instead of black (#85)
84a 85 86 86a
84a to 86: the 1976-77 Eldorado cover could be matched to the body color
86a is an optional cover available on all models that year except the Eldorado; it was again available in 1983-84
87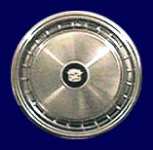 88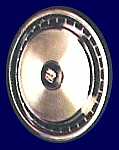 88a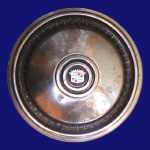 89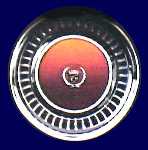 90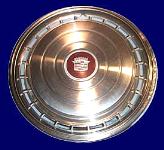 87 and 88: Wheel cover for the regular 1977 cars; #88a "Fake" cover for 1977 cars; #89: 1977 Fleetwood cover [color and crest]; #90. 1978 regular cover

91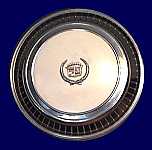 91a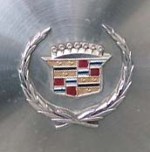 92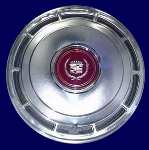 93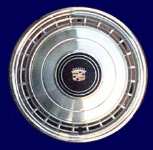 94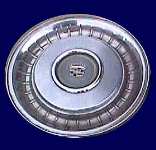 94a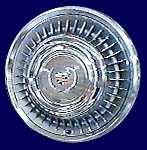 #91/91a: 1977-78 Eldorado cover [ brushed chrome or color coordinated with the body]; #92 1979 De Ville;
#93: 1979 regular wheel cover; #94: cover for regular 1980s Cadillacs, #94a 1980-87 optional?
95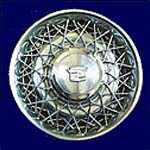 96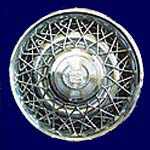 97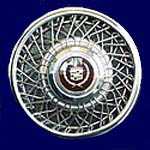 98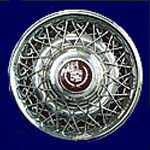 A number of different models of optional wire wheels and center caps were offered in the 80s and 90s;
here is the main selection: (95) 1975-84, (96) 1975-85, (97) 1985-86, (98) 1986-92
99
Custom wire wheel (what years?)