1960 Cadillac Series 64 Eldorado Biarritz
Style 6467, only 1285 units built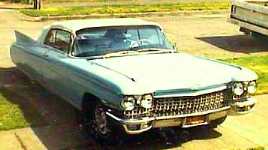 Photo taken in Portland Oregon, after we had a new
(white) convertible top installed (the original was black)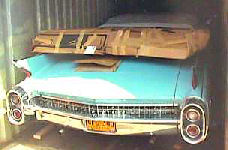 This is the view that greeted us when we unlocked and opened
the shipping container at the port of Antwerp, in Belgium
[ laying across the rear deck is a new windshield for another client]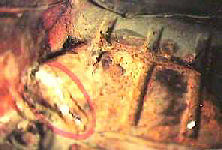 This is the interior of the trunk of this "totally rust free" car;
after we removed the trunk liner you coiuld see, through the rust
holes in the body, the white sheet we had spread out under the car.
Was I going to ship it back to Portland, Oregon, just for THAT "minor inconvenience"?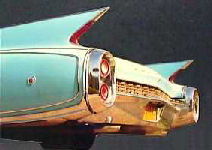 Non-original wreath and crest on rear fenders
[ these were correct on 1963 and 1964 models ]
Restoration


The "before" picture


The "during" pictures
(Left) not visible in this low-resolution image, the former holes for the lateral fender spear
of a regular Series 62 or de Ville model; also barely visible, the new metal welded
above the rear wheel well - obviously the car had been in a collision or was rusted through
(Right) The Pink Lady in primer at the Langiano body shop in Reconvilliers, Switzerland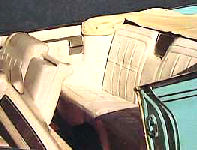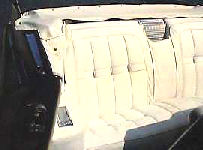 According to the body tag, the car originally had the rare, bucket seats; obviously, someone removed them and replaced
them with a vinyl-covered bench seat from another model (not even a Cadillac) before I bought the car; the leather on
the rear seat had no tears and only minor cracking, but the pleats were "flattened" and brittle to the touch (left);
new leather in the correct texture and design was used to cover the seats, front and rear (right)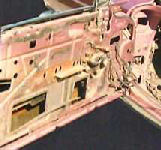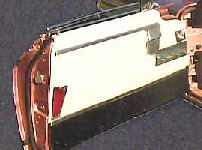 (Left) on stripping the car for paint and removing the inner door panels,
we discovered the car's original color: Siena Rose (code #98);
(Right) the original door panels were saved; only the armrest was restored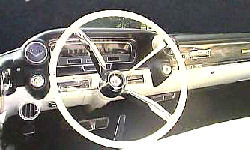 The restored dash pad and instrument panel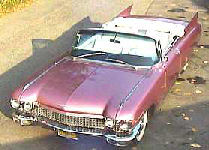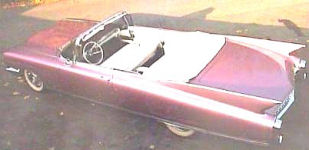 The "after" pictures
The newly restored Pink Lady in all her splendor
Note the absence of the hard boot cover
That will be for someone else to purchase!
But the dream had to end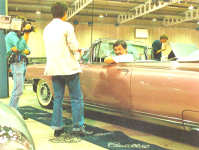 Owing to a legal dispute with my employers, that took 10 years to be "resolved", we decided we had to
sell the car (the "Pink Lady"), our home ("El Dorado"), our boat ("Gita's Ark"), and to move to the
USA on retirement in 1999; as it happened, a settlement out of court was agreed in 1996; we could have kept
the car, the house, the boat... but in the face of uncertainty, right up to late 1995, we had sold everything in the interim!