1937

Cadillac (USA) La Salle prototype sedan

Hollywood Coachworks (USA) 1937 custom LaSalle speedster, purported to have been built for Clark Gable as a gift from his wife, actress Carole Lombard. The car was brought to my attention by Belgian auto enthusiast and friend, Philippe Hulet de Limal who kindly supplied some three dozen images of this superb speedster; only a few of these are included. Plaque (on firewall?) reads "Made for Clark Gable, all my love, C.L, by Hollywood Coachworks, August 1937."


Plaque (on firewall?) reads: Made for Clark Gable, all my love, C.L, by Hollywood Coachworks, August 1937

Fleetwood (USA) Styling Studio sketch; was it ever built. The influence of the Cord front-wheel drive is visible in this front clip

Fleetwood (USA) Another styling Studio exercise, this one presumably for the 1937 LaSalle


Image: Z. Taylor Vinson collection, courtesy Hagley Library and Musuem, DE ]

Fleetwood (USA) ??? 7539 5-passenger town sedan with Series 60 hood.

Fleetwood (USA) Special V8 town car


At the time this photo was taken, the car
was owned by my friend Ron VanGelderen

Fleetwood [?] (USA) special 4-5 passenger V8 coupe style 37-6011, serial #6033101, built on the series 60 V8 chassis allegedly for the Rev. John Quinn of Connecticut, a large fellow who weighed over 300 pounds! Apparently he owned the car [but never drove it] until he died in 1956. The car was owned in the early seventies by David J. Kasny of Bellerose, NY. He believed the modifications had been done by Fleetwood or Derham.

Fleetwood (USA) (???) 1937-38 Special Cadillac Series 60S models, SSA 1973, pp.3-11.

Fleetwood (USA) Very similar to the preceding car is this special 4-5 passenger V12 coupe style 7589A, body #1 [and probably the only one] and engine #4130468, built for Ms. May Luchsinger; it features a special, front jump seat folding up under dash and offering easy access to rear seat. This car was apparently converted from a sedan style and has a specially formed trunk, rear quarter panels and interior. The car is reported to have been purchased from the Luchsinger estate by Tom Barrett in 1986 [1956 ???] when it had 18,000 miles on the odometer. Photos CC 12/86 and SCC pp.66-68 [article and photos by the previous owners, Dick & Roberta Be Guhn]

Fleetwood [Harley Earl] (USA) V12 boat-tail speedster said to have been built for cowboy singing star, Tex Ritter. B&W Photos: SSA89, p.21, color pics. SIA 6/2004. Built on long-wheelbase chassis of 138" the car was 216" overall and weighed over 5,000 lbs. Its cost in 1937 was $9.700, which in today's dollars is around $124,000 [CPI Inflation Calculator]. Purchased from the collection of Robert H. Teller in 1995, the car resides (2004) at the Automotive Road of Dreams Museum in Costa Mesa, CA.


Left: business card of Lowell & Claire Landy, former owners (?), Scottsdale AZ


Above color photo courtesy of the present owners


These photos were taken on the occasion of the CLC Grand National, in 2003


The front license tag of the boat-tail is replaced with this notice

Franay (France) Three-position convertible town car on V12 chassis

Miller, A.J. (USA) Yosemite National Park 12-seater sightseeing tour bus on Cadillac Series 75 chassis. The Yosemite Transportation Co. purchased no fewer than 20 of these coaches, to be used for touring through the park. The canvas top could be rolled completely back to afford passengers a better view of the scenery in fine weather. New, it is reported to have cost $2300; however I tend to think that was the cost price of a regular 1937 Cadillac Series 75 limousine.

Nordberg (Sweden) Stretched limousine on 4m12 wheel base [another source says 4m08] for King Gustaf V, it was his favorite car and was used by the Swedish Royal Court from 1938 to 1954. The long roof section required many hours of work. The interior was especially luxurious and incorporated swiveling seats that could be turned to face the King ... who also liked to play cards with his guests on extended journyes. Photo [left], Nordberg Coach Works book and [right] from Jan Ströman's "Swedish Coachbuilders".


Photo: © Osterman archives, Centre of Business History, Stockholm, Sweden - courtesy Jan Ströman

Rollston (USA) 5-passenger Town car on the138" wheel-base, Series 75 chassis with V8 engine. It features a flat windshield and painted wheel discs; photo McC, p.210. Many new Cadillacs were pictured in natural surroundings. Some, like this one were taken in front of a staid building at either #854 or #855 ...but what street: I guess the city is Detroit; who can tell me the name of the street? It is reported that Rollston built only one of these cars so I am assuming it is the same one I admired and photographed in Scottsdale, AZ, in January 1999 where it was being offered for sale at auction by the Kruse organization. It did not find a buyer there and so it proceeded to the next Kruse auction venue at Auburn, IN, in September the same year. There, as lot #1118, it was bid up to $45,000 but the owner(s) did not let it go. This car was painted a dark burgundy color. Kruse said this car had been in storage for years and is featured in the book "Cadillac's of the Past" [that is one Cadillac book I don't have! - copies any one?]



Note the "droopy" door handles; I don't believe this
was a Rollston design feature but more a sign of old age!

Ross, Art [Cadillac designer] (USA) Proposal for custom roadster on 1938 Cadillac chassis.

Sodomka (Czechoslovakia) Custom LaSalle convertible coupe, reputed to have been built for King George VI of England; a scale-model of this car exists [HW toy collection]

[Unknown, Russia - formerly the USSR] Mildly customized 1937 Cadillac coupe; I believe the intention here was not to "customize" the car, but simply to keep it running with whatever mechanical and body parts were to be found in the USSR over the years. There are obvious Packard overtones on this car. It is still in service.

1937 (V16) click here for photos

Chapron, Henri (France) I'm not sure this beauty was ever built but it would have been a comely sixteen town car by one of France's premier coach builders.

Fleetwood (USA) style 5825 7-passenger Town car with "V" windshield, on 154" wheel base V16 chassis [2 units]

Fleetwood (USA) style 5833S 5-passenger Town sedan with leather insert top, with "V" windshield, on 154" wheel base V16 chassis [2 units]

Fleetwood (USA) style 5875 7-passenger Limousine with leather insert top and jump seats, with "V" windshield, on 154" wheel base V16 chassis [24 units]

Fleetwood (USA) style 5875FL 7-passenger Formal limousine with leather roof covering, jump seats, with "V" windshield, on 154" wheel base V16 chassis [2 units]

Fleetwood (USA) style 5875H4 7-passenger Limousine with leather insert, jump seats, interior roof height increased by 4", with "V" windshield, on 154" wheel base V16 chassis [1 only]

Fleetwood (USA) style 5875S 7-passenger Sedan with leather insert top and jump seats, with "V" windshield, on 154" wheel base V16 chassis [2 units]

Fleetwood (USA) style 5875SF 7-passenger Formal sedan with leather insert top, jump seats, no quarter windows, with "V" windshield, on 154" wheel base V16 chassis [1 only]

Fleetwood (USA) style 5876 2-passenger Coupe with opera seats, with "V" windshield, on 154" wheel base V16 chassis [4 units]

Fleetwood (USA) style 5880 5-passenger Convertible sedan, with secondary windshield, with "V" windshield, on 154" wheel base V16 chassis [5 units]

Fleetwood (USA) style 5885 5-passenger Convertible Victoria, with "V" windshield, on 154" wheel base V16 chassis [2 units]

Fleetwood (USA) style 5891 7-passenger Town brougham with jump seats and quarter windows, with "V" windshield, on 154" wheel base V16 chassis [1 only]

Fleetwood (USA) style 5899 5-passenger Aerodynamic coupe, with "V" windshield, on 154" wheel base V16 chassis [1 only]

Hartmann (Switzerland) Special V16 roadster inspired by 1936 Paris salon 135M Delahaye with roadster body by French-Italian team Figoni & Falaschi; currently [1999] in Blackhawk collection, Danville, CA, with fake F&F plaque on the instrument panel! Many photos, including original Hartmann photos. Good photos of the F&F car that inspired Hartmann in TQ1-2/84, pp.16-17 (the latter car was bought at the Paris Salon by Prince Aly Khan, then husband of Rita Hayworth who had it immediately painted from cream and orange to dark burgundy; the F&F designer at the time was Geo Ham, a renowned car illustrator; for a while, that Delahaye turned up in the USA where it was owned by Bob Grier, President of the Sports Car Club of New York). My own history of the Hartmann car was published in SSA90, pp.2-19; the integral story is on this page.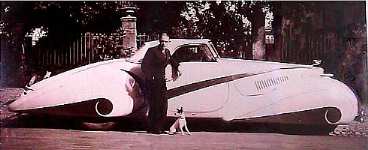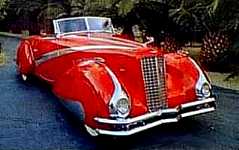 Left: Philippe Barraud of Morges, Switzerland, commissioned this ginourmous, custom V16 roadster from a relatively
unknown Swiss coach-builder, Willy Hartmann of Lausanne. Originally cream-colored, with bright orange (and later,
chocolate-colored) body stripe and skirt moldings, photo at at right shows what the "customizers." did to it in the USA
1938

Brunn (USA) [proposal only???] 4-door touring cabriolet (convertible sedan), drawing McC p.219

Brunn (USA) Convertible Victoria proposal; drawing McC p.214.


This is a designer's drawing of a Brunn convertible Victoria proposal

Brunn (USA) According to a magazine article from February, 1990, quoted to me by model maker Otto Vallastro [thanks Otto!], this custom convertible coupe was designed for Ralph Pulitzer [the New York World publisher?]; it is design # 3130-A, order # 2708 of 2/7/38; there are no roll up windows. The car is mounted on Cadillac's new, 127" wheel base, double-dropped Series 60 Special frame and powered by the same 346cid/135bhp flathead V-8 used in all Cadillac eights from 1938-1940 The rear half of car is handcrafted aluminum. At that time (1990) the car was owned by Jerry Moore of Florida. It was subsequently offered for sale at a couple of auction venues by the Kruse organization, in Auburn, IN (first in September, 1999 and again in August 2000). As lot #1069 at the first of these two auctions it was bid up to $150,000 but not sold. As lot #1071 at the next auction it was bid up to "only" $100,000; again it was not sold. The factory build sheets come with the car. I suspect we shall be seeing more of this car! Late extra: I saw it offered for sale again in Hemmings [April 2001] for #195,000!



The car was still in daily use in the fifties and sixties; right: the restored car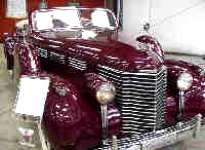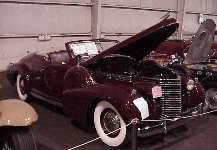 As displayed at a Kruse auction in 2000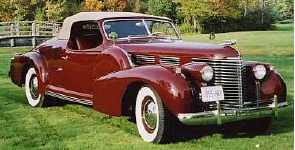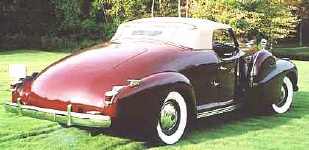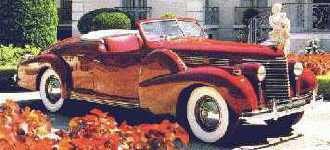 Featured left on a collector car card, center and right on the owner's estate [Steve Plunket collection]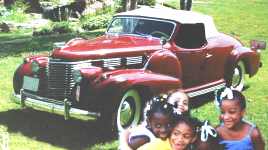 The car is featured also on the cover of a 2008 fund raising
calendar for needy children of the Dominican Republic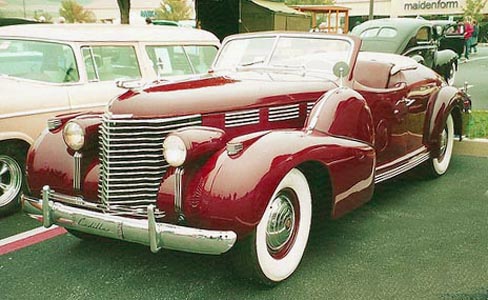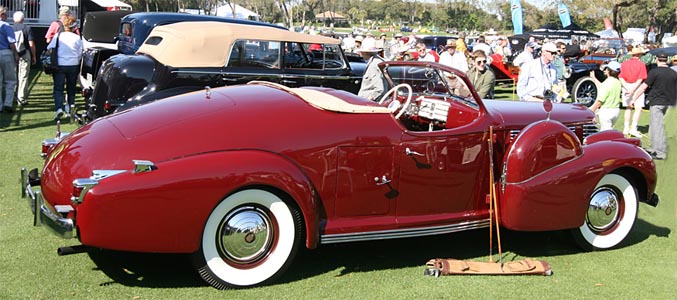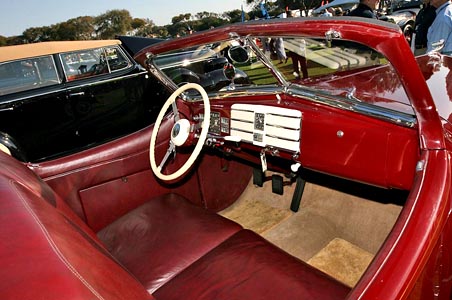 Derham custom sedan with sunroof (SS 6/92, p.120; also have other photos)
Fisher sedan with custom trim

Fleetwood (USA) (???) "Y-Job" (special order # 13690), in fact a Buick, not a Cadillac, although it inspired many later Cadillac features. It was a low, road-hugging car [only 54" high] with a long rear overhang. It had concealed headlights, power-operated convertible top with flush-fitting deck cover and pontoon fenders that extended into the front doors. Although it was begun in 1938, it was not completed until April 1940, nor presented to the public until 1941. Harley Earl used it as his personal transportation throughout the forties. It underwent some modifications in 1947. It is still the center-piece of the GM collection at the Sloan Museum in Detroit. MT, 100th Anniversary, p.142.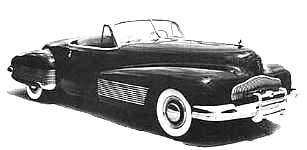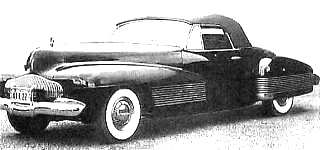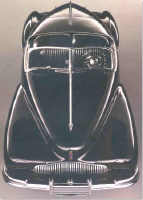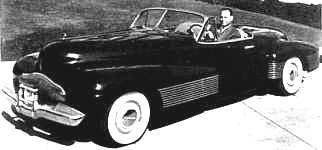 The great Harley Earl at the wheel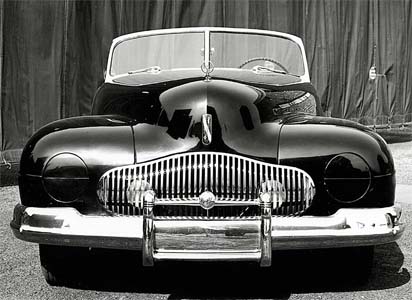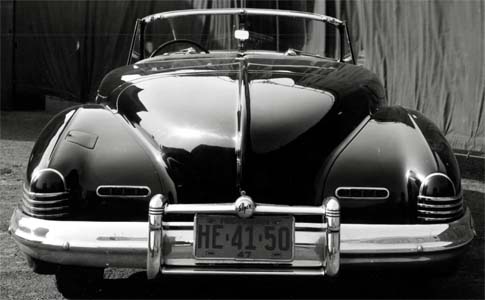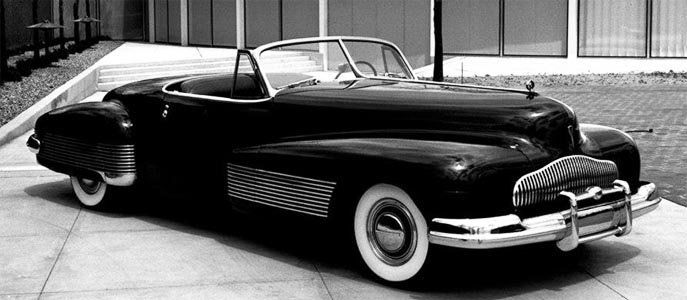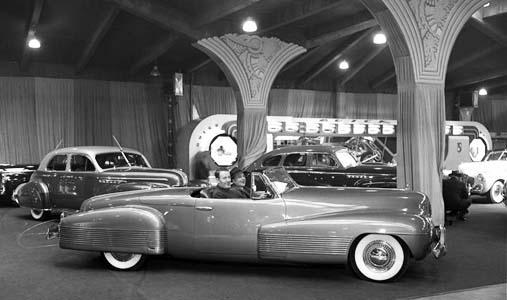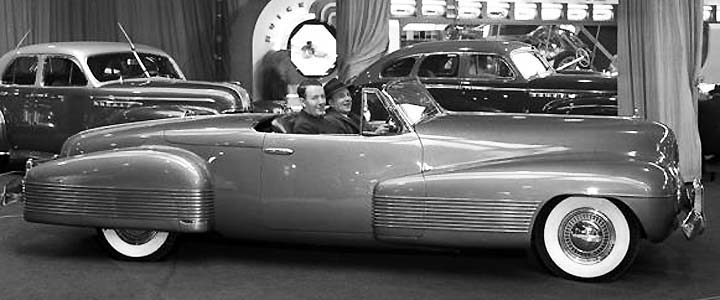 The "Y-Job" on display show at the Chicago Auto Show, circa 1941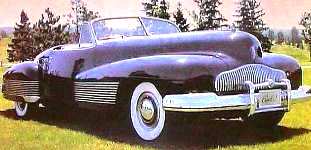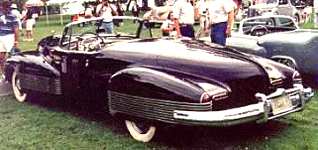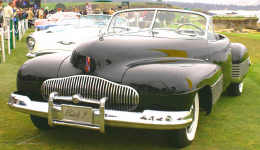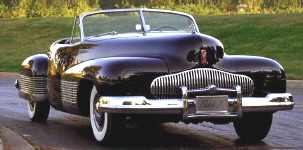 The "Y-Job" has survived and is frequently seen
at auto shows in the Detroit area, as here
[ Photos: © Junny King ]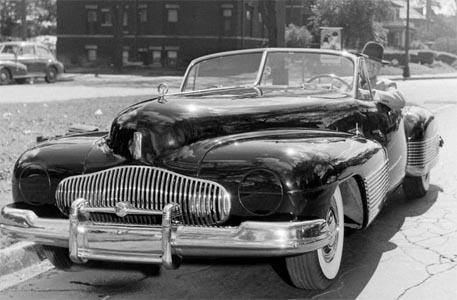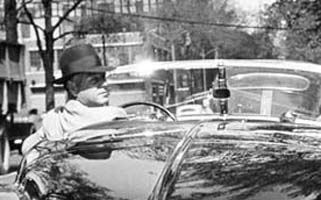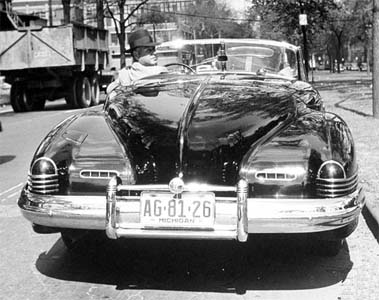 In this rare shot, the man at the wheel is Harley Earl himself
[ cropped photos: © LIFE magazine ]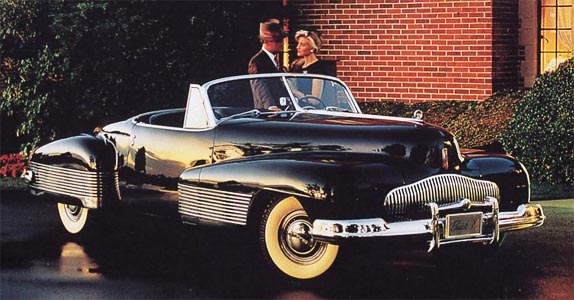 Fisher (USA) Official pace car of the 1938 Indianapolis 500 race [barely modified from stock]

Fleetwood (USA) Series 60S proposal, mock up [Sch40, p.9]

Fleetwood (USA) Other body styles were contemplated to be built on the new, 1938 Series 60 Special chassis, but none ever made it into production. What a shame. Look at this lovely 60S coupe styling model, Sch40, p.12, TQ1-2/87, pp8-11.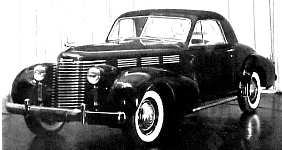 [Photos courtesy the late Dave Holls]
Fleetwood (USA) Two of these lovely 60S 4-door convertibles were built; Sch40, p.11.


[Photo courtesy the late Dave Holls]

Fleetwood (USA) special formal sedan style #7539, possibly built on one of the sixteen Series 75 chassis that did not receive a regular Fleetwood body. This car belonged at one time to my friend Ron Van Gelderen, twice-President of the Cadillac-LaSalle Club [1972-1978 and 1984-1986]. It features a heavily padded top and small rear window.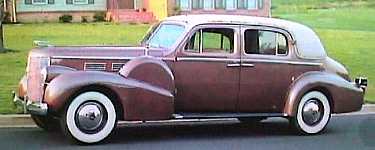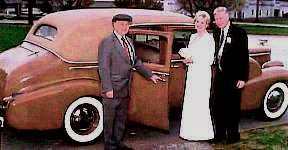 The car survives and is currently owned by Hunter Byington, Tennessee. The historic photo on the right shows
Mr. Byington acting as chauffeur to Mr. and Mrs. ...Ron and Johnnie Sue Van Gelderen at their June 2001 wedding.
Hearty congratulations to the newlyweds from Cadillac aficionados and CLC members worldwide!
[Photos: courtesy, the "Self-Starter", magazine of the CLC]
Fleetwood (USA) not strictly a "Dream Car", but a rare body style nonetheless is this Fleetwood style 7553 town car. This car is currently owned by Robert Group, who visited The Cadillac Database©, December 2004. The odometer reading is circa 55K miles and the car still has the original interior.

Fleetwood (USA) ten custom Series 60 Special models were built for GM executives between 1938 and 1941, like the town car below:

Franay (France) Town car on series 75, V8 chassis, with retractable curtain over driver's compartment. The designer drawing is from the catalog of French paint manufacturer, Nitrolac whose business premises were located at Route d'Aubervilliers in Paris' St. Denis area. The color scheme is described as jaune séduction et noir iris [i.e. "seduction" yellow and iris black]. The car won first prize in the "Closed Cars" category at a 1938 concours d'élegance staged in Paris by the magazine L'Auto. This car is reported to have been used, later, as a taxi, in the streets of Geneva, Switzerland.


This design has a quarter window


In the second (or first?) design there is no quarter window, nor is there one on the actual car

Franay (France) 4-passenger fixed top Victoria.

Nordberg (Sweden), Special Limousine landaulet on Series 75 V8 chassis, with integral removable trunk rack. Photos in Nordberg coach work book (N.B. In another source, I have seen this car ascribed in error to the German coach builder, Erdmann & Rossi).





Ramseier-Worblaufen (Switzerland) 4-door 7-passenger Town car with light colored cloth or leather top; built for Baron Von Kleist and delivered to him from Worblaufen to Geneva in August 1938 (built on one of the last 100 series 75 chassis for 1938 with engine #3271824). The Ramseier job number was 1351, invoice # 664 of August 27, 1938. List price was SFr. 10,500 plus SFr 951 customs duty but the Baron got a 20% discount [perhaps he was a regular customer]. The car survives; it carries Basel license tag BL32143.

Reinbolt & Christe (Switzerland) 4-door, 5-passenger Convertible Sedan on Series 75 V8 chassis; doors are center hinged (i.e. front "suicide" doors); the car survives [photos below].


Attending meet of the Swiss Cadillac Club, Cham, 2004
To the right of the LH photo is Roger Zimmermann's perfectly restored '57 Brougham #230
[ Photos: © 2004 and courtesy Coon Schneeberger ]


This one was taken at the 2008 European
Grand National of the CLC in Sinsheim, Germany
[ Photo: © 2008, Dirk Van Dorst ]


Photos (above 5 rows): © 2009 and courtesy Philippe Saunders-Jolivald


International GN in Richelieu, Touraine, France - Sept. 2010, in company with a 1964 Fleetwood Eldorado from Germany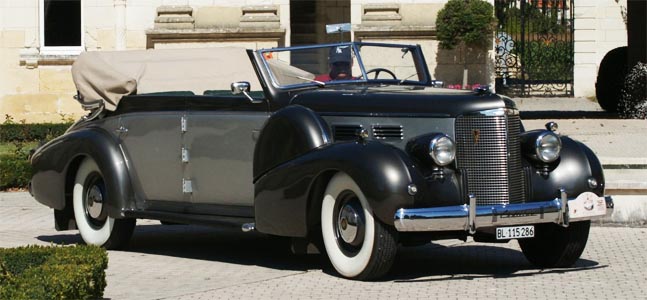 [Unknown, Netherlands] I believe this car was built for Wilhelmina, former Queen of the Netherlands


This picture was taken at a private wedding in Holland

[Unknown, USA] Custom boat-tail speedster

[Unknown, USA] Custom town car on Cadillac chassis


[ Photo: from the book, Cadillac by Stephen Salmieri (cropped image) ]

[Unknown, USA] 60S Sedan with special front end and grille, SS, 1/96

[Unknown, USA] Modern-stretched "Series 75", 8-pass. limousine with 472ci engine and 3-speed automatic transmission.


[ Photos : Internet, 2008 ]

Van den Plas (Belgium) This custom convertible sedan on the Series "75" chassis is Van den Plas design #1529. Body #3636 was ordered by GM, India and cost £375 net. The car was finished in two shades of blue. There is a possibility that this car has survived.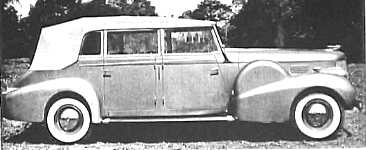 [Photos: courtesy of Aniruddh ("Ani") Kasliwal from India, CLC member #16670]
Van der Stricht, Patrick (Belgium) Patrick is a devoted Cadillac enthusiast. This is his artist's proposal for a 1938-39-40-41-48-49-51-53-54-55-56-57-58 custom Eldorado coupe (...and I may even have missed a couple of years in my speedy examination of this delightful drawing!


Drawing courtesy of Patrick Van der Stricht

Webster, Indiana (USA) I don't want to fill this list with contemporary custom conversions but I have allowed for a few exceptions, like this pick-up with a 2-passenger Convertible top and vertical exhaust stacks behind cab [like truck]; owner [in the eighties] George Hickman. Body sectioned 7", channeled 3", Frenched headlights, grille has 7" section removed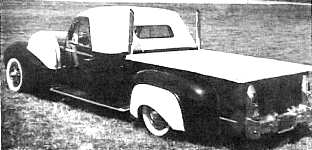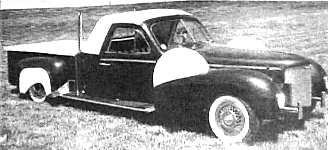 1938 (V16) for images, click here for photos

Fleetwood (USA) style 9019F, 5-passenger Limousine on 141" wheel base V16 chassis [5 units]

Fleetwood (USA) style 9057B, 5-passenger Coupe on 141" wheel base V16 chassis [8 units]

Fleetwood (USA) style 9059, 5-passenger Formal sedan on 141" wheel base V16 chassis [8 units]

Fleetwood (USA) Special V16 fastback coupe for William.E. Knudsen. Interior view found in GM Styling library 9/94; this car attended the "Cadillac Experience" meet in June 1993 at the Gilmore Museum in Kalamazoo, MI; Sch16, p.151 and MH, p.277 (rear view)

Fleetwood (USA) (???) Special V16 fastback Town car [like style 1938-40 "9053" but with cloth covered rear]; owned by Dave Ficken in the seventies, this car is body #8 of the eleven units built in 1938; photo Sch16, p.147

Franay (France) Special Cadillac V16 Town car [have poor newspaper photo from LVA]. Parisian license plate #2003RL8.

Lee, Don (USA) Willoughby landaulet design #798 built on Cadillac V16 chassis (38-90) for a Mrs.McDonald [can't recall source of this info -can anybody help?]

1939

Berliet (France): in truth, this car has no place in the Cadillac Database, simply because it is NOT a Cadillac but a French Berliet automobile, model "La Dauphine", which, as you can see, appears to be largely inspired by the 1938 Cadillac Series 60 Special. Couldn't resist it!


Photo: Cadillac-LaSalle Club, Inc.

Binder (Paris, France) V8 Series 39-75 limousine, engine # ......, RH drive, currently owned [1996] by Charles-Alain Montantin of Guadeloupe (car is located in the Bordeaux region of S.W. France). Features include a flat windshield and special trunk treatment. Binder is reputed to have built other bodies on the Cadillac chassis in the late thirties.

[ no image ]

Bohman & Schwartz (USA) La Salle convertible coupe [1] (photos)

Bohman & Schwartz (USA) La Salle convertible Victoria [2] (photos)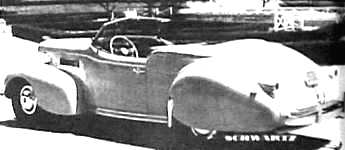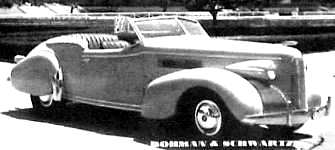 Brunn (USA) This town car on a V-8 Cadillac chassis [McC p.233] has survived and in 1995 was undergoing restoration. I saw it in Ralph Prueitt's restoration shop in Pennsylvania, in 1994. Owned by Barry Torrente, the car has been apparently 10 years in restoration. Two of these cars apparently were built; I have original factory photos (somewhere in my vast archives). The car resembles to some extent [particularly in the rear end treatment] a V16 town car built this year for Mrs. H.B. Du Pont of the pharmaceuticals firm in Wilmington, DE; that car was owned in the seventies by Bernard Pestow, of Goshen, IN. Late Extra: in June, 2002, I got this e-Mail from Mr. Torrente who owns this particular Brunn custom job: I was just reviewing your site and found my 1939 Brunn Cadillac that has been at Al Prueitt's for some time. I'm not sure where the information came from in the description but it is totally incorrect [right, Barry, I had it listed previously, in error, as a Derham creation - sorry!] . Brunn made two of these cars for Joseph Weidner of New York, Philadelphia and Florida. My car is body #1; as far as I know, #2 was in an accident in 1950 and was scrapped. If you need any further information please let me know. I received a lot of data and copies of the original photos, including craftsmen making fenders and the body framing before the aluminum was applied. Thanks for this great Web site.




Brunn (USA) Proposal for a touring cabriolet [convertible) on V-16 chassis; design #3181 of 7/1938, drawing by H.C. Brunn in NAHC, Detroit Public Library.

Derham [or Brunn?] (USA) Flat windshield town car on V-8 chassis. Ron Van Gelderen may have owned it in the late sixties (he ran an ad for the sale of one of these in SS, for September 1969). He showed some photos of it in the Self-Starter, in the sixties or early seventies. It had a small, oval rear window and a single occasional seat facing right. It is believed the car has survived; it was owned in the seventies by George K. Jepson. Story in SS for May, 1969 (pp,11-13).





Derham (USA) a car with such a body was exhibited at one time in a Car Museum in Holland [LVA 6.23.88, p.9]

Derham (USA) Special V8 town car on Series "Sixty Special" chassis. I photographed this car at the CLC Grand National meet in Warwick, RI, in August 2000. The pics below were supplied by Carl Stoutenberg, who owned the car at that time. Carl informed me in December 2004 that he had now sold the car.


Factory proposal (artist's rendering)


(Left) factory photo taken at time of completion, (right and below) the car today


This may be the Stoutenberg car after it was restored
Photo: Internet, 2014
Derham (USA) Special V8 town car landaulet built for Ms. Jesse Donahue, daughter and heiress of billionaire F.W. Woolworth (she had a similar custom Cadillac town car built by Derham the following year, 1940).

Distinct Images, Custom auto builders of Canada (Canada) did this modern conversion of a 1939 Fleetwood limousine, enabling ramp access by an invalid in a wheel chair. Learn more about this company and its creations here.


[ All images from the company's web site ]

Fleetwood (USA) custom Series 60 Special sedan for senior GM official

Fleetwood (USA) custom Series 60 Special 4-door convertible sedan for Crown Prince Frederik of Denmark. The car was presented to the Royal personage during an official visit to the USA by the then Danish CEO of Cadillac, William S. Knudsen.

Fleetwood (USA) 8-passenger limousine [imperial business sedan], style #7533-L, for the funeral trade; only two units were built.




Fleetwood (USA) [???] These photos were supplied kindly by Mrs. Dennis Sullivan, a Cadillac enthusiast. She writes: Enclosed are two pictures of a 1939 Cadillac Opera Coupe that we owned in the early '50's. I believe it was a Series 75 and had a factory installed white canvas roof over the steel top. The vehicle had little jump seats that folded up against the side panels. Excellent condition. Rumor has it that Gary Cooper once owned this car, but this is rumor only. What I would like to find out is how many of these were built and if you know if there are any still in existence? I was unable to give Mrs. Sullivan any useful information about her former car, having never seen one like it. I did recommend that she obtain a copy of the build sheet from Cadillac's Historical Services; that way she could determine if it was a factory conversion or not.


[ Photos: © and courtesy Mrs. Dennis Sulllivan ]

Franay (France) town car [photo, below]

Nordberg (Sweden): custom Series 75 convertible sedan for Grängesberg company President Martin Waldenström. Photos in Nordberg coach work book. I learned by chance, in 2012, that the car's current owner is Anders Läck of Sweden. We had an Email contact about some Swedish magazines I needed. Anders owns also a beautiful 1932 Cadillac V-16 sport phaeton. He brought both cars to Detroit in 2002 for the 100th Anniversary of the Cadillac automobile, staged by the CLC.


This is an original factory photo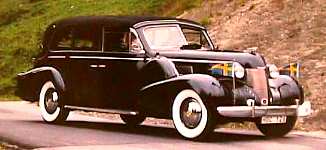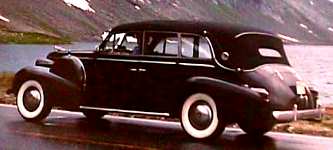 [ Photo (right) © 2000, J. Scott Harris ]


The photo at left [and detail at right] is a movie still from a Swedish TV mini-series entitled Hedebyborna, filmed in 1978; the setting is
Gustaf Nordbergs Vagnfabrik AB in Stockholm; at left may be seen the above custom job and at right a Fleetwood Series 75 sedan or limousine


Collector, aficionado and owner, Anders Läck, rents out this car (and other cars
in his collection), with chauffeur, for special occasions such as weddings


[Left] Touring in Switzerland; [right] on show at the CLC Grand National, Detroit, 2002
[ Photo: courtesy the owner ]

Tremulis, Alex Sarantos was born January 23, 1914 in Chicago; he became an industrial designer in the North American automotive industry and later held automotive design positions at Cord Automobile, Duesenberg, General Motors, and Ford Motor Company before establishing a consulting firm. This design is vastly ahead of its time, compared to regular designs of the day. It was made for Hollywood actress Eleanor Powell (1912-1982). She was married to actor Glen Ford.


[ Photos: courtesy of Roy Schneider, excerpted from Self-Starter ]

Tuscher (Germany) Custom 4-door convertible


[ Photos: Z. Taylor Vinson collection ]

[Unknown, France?] Custom imperial (limousine), probably a conversion from a regular Fleetwood style. This particular car was owned in the eighties by Mr. C. Montantin of Vigean-Eysines, in France.


[ Photos: Mr. Montantin and La Vie de l'Auto ]

[Unknown, The Netherlands] Custom landaulet on Cadillac "75" chassis, reported to have been commissioned by the late Queen Wilhelmina of Holland. Photos supplied kindly by Cor and Frits, of the Dutch Cadillac Club, who visited us in S. Carolina, in February 2001.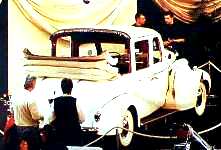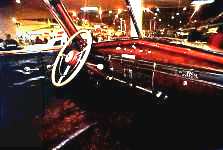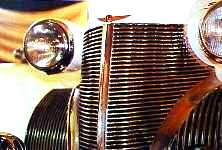 This landaulet features a particularly high roof line to facilitate entry and egress of its royal
owner; front seat (center) is upholstered in black leather and shows considerable wear;
dash appears to be stock 1939 version, as does front clip (far right)
[Unknown, USA] Hot rod conversion on 1939 La Salle convertible coupe [seen and photographed at Scottsdale, AZ, in January 1999]

[Unknown, USA] Here's another rod conversion on 1939 La Salle base

Wildanger, Jos. [NJ, USA] Here's a "woody" PARTS CAR built on the chassis of a 1939 Cadillac; note the wheel covers from a 1954-55 Cadillac model. It was featured for sale on Ebay in March, 2015. Here are some extracts from the vendor's descriptionr: 1939 Cadillac woody project - built by Jos.Wildanger & Co. Red Bank, NJ. They were a prominent coach-builder for the carriage trade of New York. The first owner ordered a 1939 Cadillac convertible, Series 61, used it for a few years and then had Wildanger convert it to a Woody to carry his guns and dogs on hunting trips. It was passed down from generation to generation then sold in the early 90s. The owner took it apart to restore it ... never finsihed it; he lost some parts along the way. CALL PETER KRELL 469-569-0827. More photo's on Pete's web site... the wood is not rotted ... the original car was sold new at Fisher Cadillac in Newark, NY. NOTE: The vendor is selling all the parts, NOT the old, converted woody you see in the photo.

J. Veth & Sons (Netherlands) This photo of a designer's drawing was supplied kindly by Z. Taylor Vinson, VA. The body appears similar to a design from the same coach-builder that I have listed above (perhaps in error) as a 1937 Cadillac model. What do Database users think? It's a pity that the poorer picture does not show the tail-lights or front ensemble any better; those would have been perfect clues.


Sorry for the poor quality RH line drawing; it's the best
I could do with the copy that was sent to me

1939 (V16) for images, click here for photos

Derham (USA) Town car on V16 chassis for Mrs. H.B. DuPont of DuPont de Nemours. This car is reputed to have been used well into the sixties [photo McC p.227]. Late Extra (May, 2006): the car still belongs to the Du Pont family and was photographed recently (photos below) by CLC member, Jeff Hansen, when he was invited to show his 1942 Cadillac at the DuPont Winterthur Museum, in Delaware, founded by Henry Francis Du Pont. Mr. du Pont had purchased two 1942 models that year (Fleetwood styles 7533F and 7559) and so the museum staff were keenly interested in Jeff's car. The sixteen is currently owned by H. B. du Pont IV. The exterior and drivers compartment seem to have been beautifully refurbished and the rear compartment appears original and still very beautiful. Unfortunately, the car did not run, owing to a cracked intake or exhaust manifold.


[ Photos: © 2006 and courtesy Jeff Hansen ]



Period photo
[source: Roy Schneider's Sixteen Cylinder Motor Cars]

Derham (USA) Semi razor-edged town car on 1939 V16 chassis for Mrs. David Haas, a resident of the Waldorf Hotel at the time. Where is it today? Photo McC p.227


[ Photo source: unknown ]

Fleetwood (USA) style 9019F, 5-passenger Limousine on 141" wheel base V16 chassis [2 units]

Fleetwood (USA) style 9019F, 5-passenger Limousine on 141" wheel base V16 chassis [2 units]

Fleetwood (USA) style 9029, 5-passenger Convertible sedan on 141" wheel base V16 chassis [4 units]

Fleetwood (USA) style 9053, 7-passenger Town car on 141" wheel base V16 chassis [5 units]

Fleetwood (USA) style 9033F, 7-passenger Formal sedan on 141" wheel base V16 chassis [8 units]

Fleetwood (USA) style 9057, 2-passenger Coupe on 141" wheel base V16 chassis [6 units]

Fleetwood (USA) style 9057B, 5-passenger Coupe on 141" wheel base V16 chassis [5 units]; Sch16, p.145

Fleetwood (USA) style 9039, 5-passenger Town sedan on 141" wheel base V16 chassis [2 units]

Fleetwood (USA) style 9059, 5-passenger Formal sedan on 141" wheel base V16 chassis [4 units]

Fleetwood (USA) style 9067, 2-passenger Convertible coupe on 141" wheel base V16 chassis [7 units]

[Unknown] Conversion on V16 chassis, probably of the 9033F formal sedan. Body possibly by Binder of Paris). This car is currently [1995] in the Cadillac Museum at Langeais, near Tours, in France. This one has a "V" windshield (unlike the other '39 by Binder, mentioned in this section). It is reported to have been the property of renowned French actor Sacha Guitry.

[Unknown] Conversion on V8 chassis, this smart "woody" drew a lot of attention at the 2005 CLC Grand National

Unknown] Carved-side funeral coach on LaSalle chassis

[Unknown] Conversion on V16 chassis, probably of the 9033 or 9033F imperial or formal sedan. Body possibly by Binder or Chapron of Paris). This car was owned in the 80's by Bernard Gröll of Grenoble, France. It subsequently was acquired by the Robert Keyaerts Cadillac Museum at Langeais, near Tours.

Van der Stricht, Patrick (Switzerland) Patrick is a well-known Swiss automotive writer and cartoonist, as well as a devoted Cadillac enthusiast. This is his artist's proposal for a 1938-39-40-41-48-49-51-53-54-55-56-57-58 custom Eldorado coupe (...and I may even have missed a couple of years in my speedy examination of this delightful drawing!


Drawing courtesy of Patrick Van der Stricht