1:43 scale
BROOKLIN, UK
Brooklin Models is one of the world's leading manufacturers of scale, collectible white metal model
automobiles and trucks. Dollar for dollar, Brooklin is the best value in white-metal models.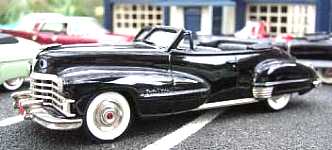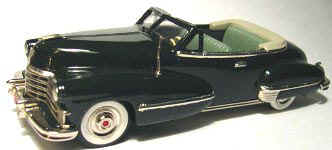 White metal diecast 1:43 scale by Brooklin, #BRK74, 1947 convertible
This one is Brooklin's #74Xa, one of only 200 made in glossy black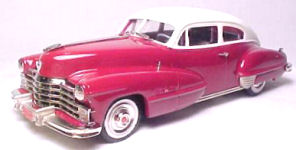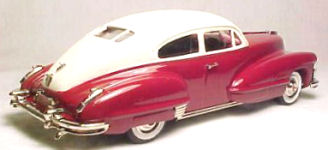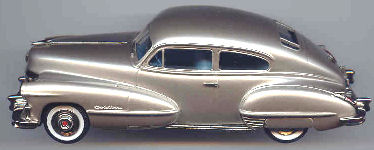 Brooklin #105, Series 62 club coupe (new release for 2005)
Lots of chrome items (hood ornament, emblem, hood spear,
front bumper, grille, headlamps, door handles, wipers, side moldings,
script, rocker panels, tail lights, trunk emblem, wheel covers
BRUCE ARNOLD [USA]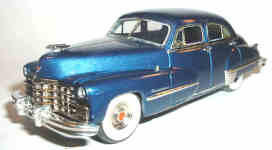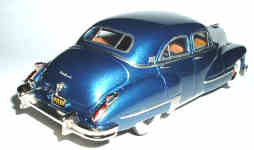 Issued in spring 2005, this 1947 Series Sixty Special is the second in the series
of four BAM Cadillac 60S models now available in three colors.
The four top of the line sedans make up the Standard of the World series.
They include the years 47, 48, 53 and 56.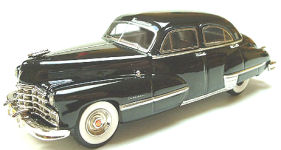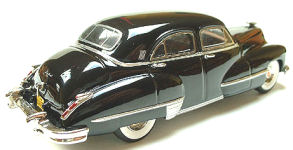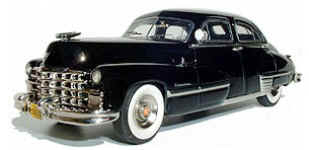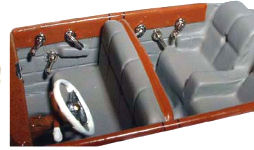 Stately in black: the 1947 Series 60 Special
[ Photos: © 2005 and courtesy of Bruce Arnold ]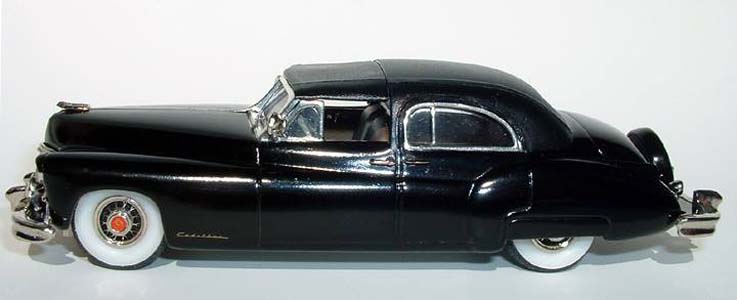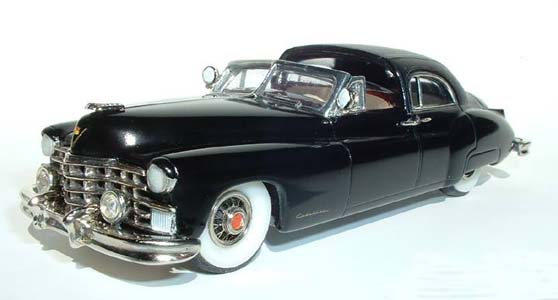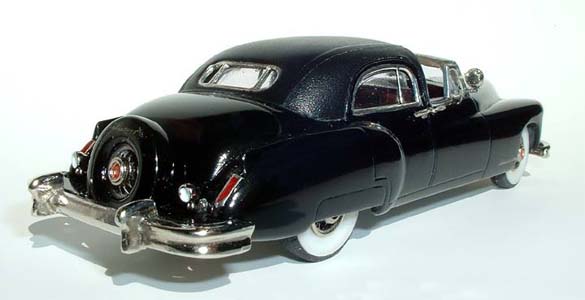 In these three rows, BAM models has created a very plausible 1942/1947 Cadillac town car
[ Photos: © 2014 and courtesy of Bruce Arnold ]
CONQUEST, HOLLAND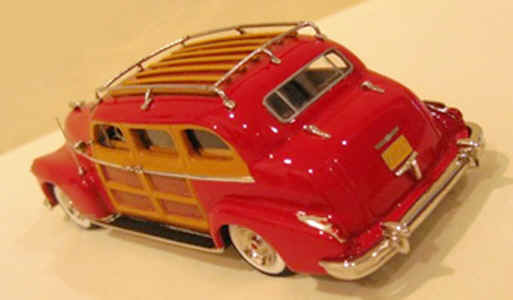 I believe this 6-window "woodie" wagon may be attributed to Maurice Schwartz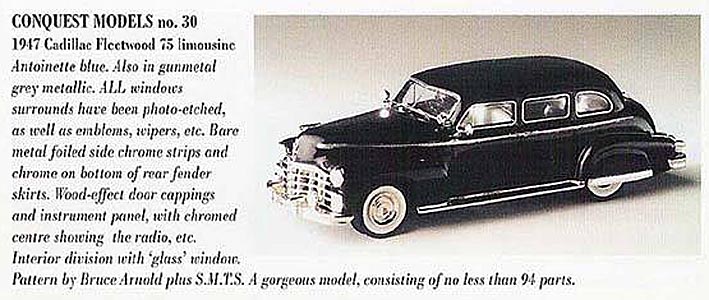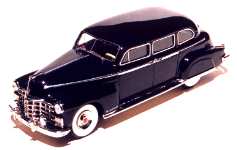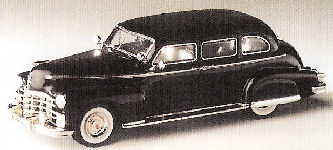 1947 Cadillac Fleetwood Series 75 Limousine by Conquest Models of Holland. CNQST #30: This superb
1:43rd scale white metal Cadillac is the finest model offered by Conquest. The master was created by
Cadillac's official pattern maker, Bruce Arnold. In April of 2000, Bruce Arnold Models offered
a specially prepared version of this model with even more detail (!), which retailed for $499.99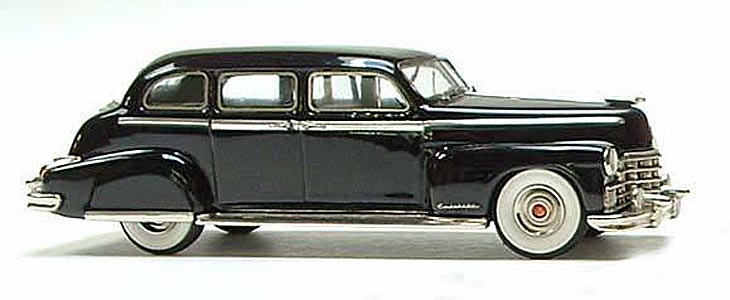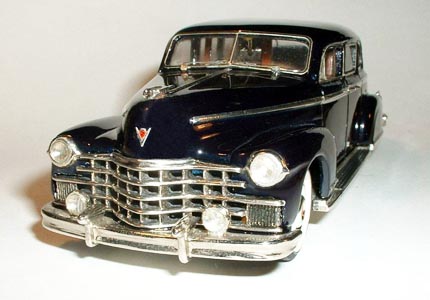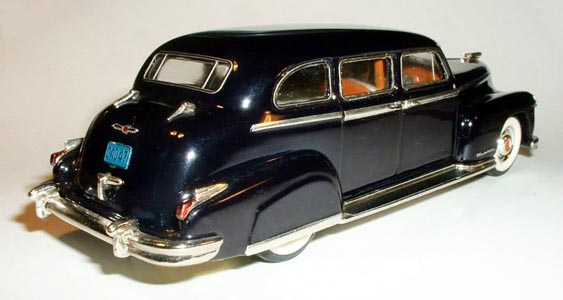 This very finely detailed 1:43 scale-model of the 1947 Cadillac
Series 75 limousine is made by Bruce Arnold Models (USA)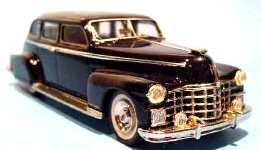 The edition on the right carries a large searchlight on the "A" pillar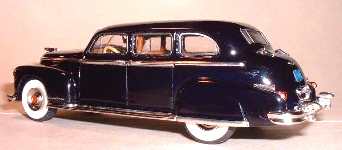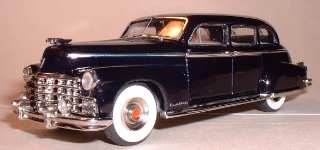 ENCHANTMENT LAND COACHBUILDERS, USA
[ Jerry Retig ]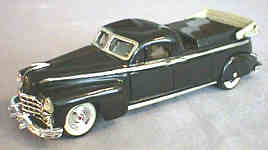 Flower car on 1947 Cadillac chassis
MILESTONE MINIATURES
[ Redruth, Cornwall, UK ]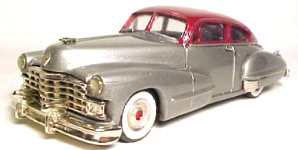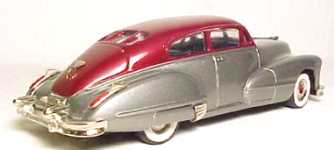 This highly-detailed white-metal scale replica has chrome front and rear bumpers, wheels covers, grille, hood
ornament, rear fender stone guards, trunk handle, headlight bezels front and rear; it features also a fitted interior


In the 43rd Avenue series comes this smart Series62 Sedanet or fast back coupe
PROVENCE MOULAGE, FRANCE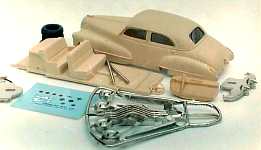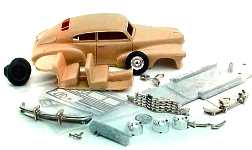 1947 Cadillac Series 62 sedan and club coupe by Provence Moulage, France (1988).
Both models are discontinued; they could be ordered assembled at the manufacturer's premises;
castings are very clean, with great detail including interior with dash; correct bumpers, grille,
wheels, windows, headlights, rubber tires and all mounting hardware are included. There are
also many photo-etched parts and flawless decals for dash gauges, body emblems and hubcap centers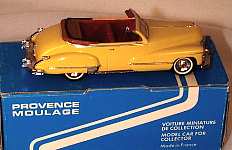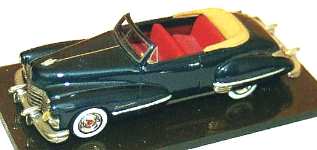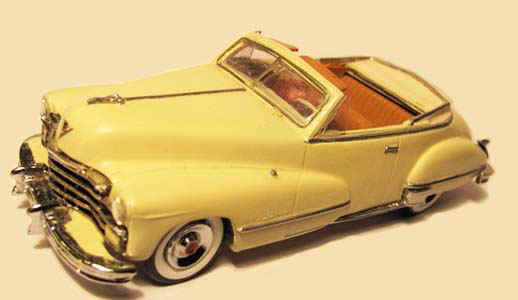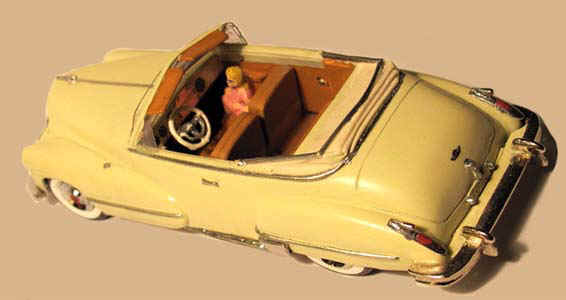 The molds for this car are attributed to E. Dhont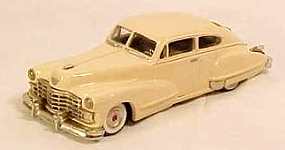 Series 62 Sedanet fastback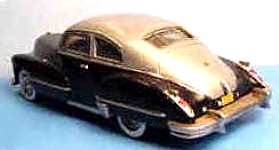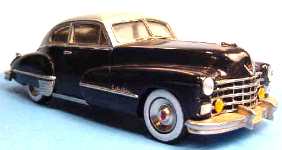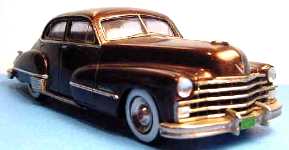 [ Photos, above 2 rows: courtesy Randall Olson, author of GM in Miniature ]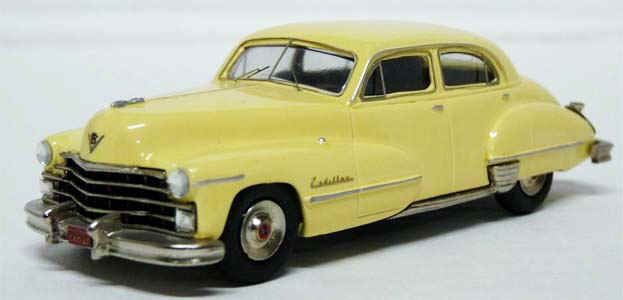 Series 62 sedan
VF MODELLEN, GERMANY
[ click here for full range and prices ]

IMPORTANT NOTE: these true-to-scale model cars are built and assembled with the utmost patience and care;
production numbers are VERY limited (from 12 to a maximum of 250 units of each) it is quite possible that some
models illustrated may no longer be available and cannot be re-issued; in making up these RARE models, many
photo-etched, chrome-plated or black-plated parts are used, as are also the finest decals; carpets also are depicted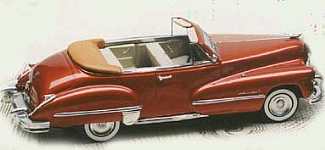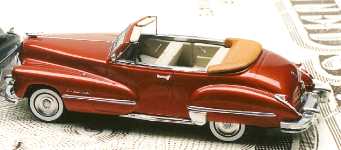 Series 62 convertible coupe (#REV005); the cost is 299 Euros (circa $370)


I don't have the number of this diorama but am guessing that
the price is the same as for other VF dioramas, i.e. 799 Euros (or circa $990)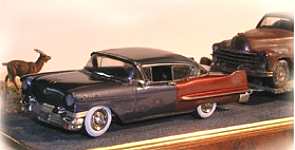 Here is a close-up of the 1957 Coupe de Ville tow car
(#REV001 - weathered)


Above three rows: these lovely dioramas show off VF's special-order "weathered" model cars;
in this case a bruised '57 coupe or a beaten '71 sedan hauling a battered '47 convertible;
(immediately above is VF's Limited Edition set, #LED002, priced at 799 Euros, e.g. about $990)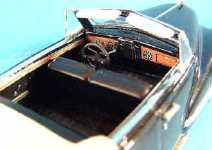 [ Photos: courtesy Randall Olson, author of GM in Miniature ]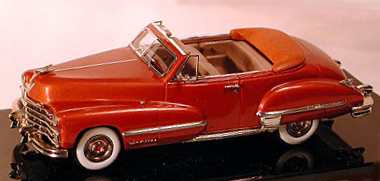 (Upper two rows) Series 62 convertible (#REV005B ?); this one may come mounted on a base;
the model appears to have the Cadillac script placed near the bottom edge of the front fender,
which is the usual position for it on the larger, Series 75 cars; could this be a mistake ?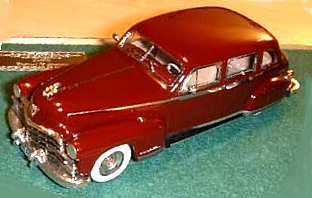 Fleetwood Series 75 limousine (#REV008); here, the Cadillac
script is shown correctly on the lower edge of the front fender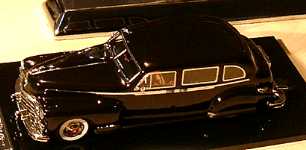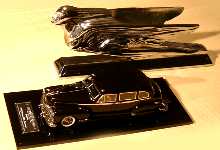 Here is a rather dark image of VF's 1947 Fleetwood Series 75 limousine (#REV008);
the basic body style of the Cadillac "75" series remained unchanged from 1941 up to 1949
[ missing ]
4-door sedans (#s REV006 and REV006B)
UNKNOWN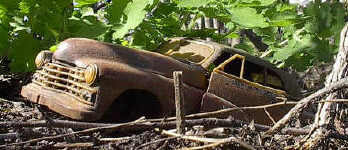 Of unknown origin, this 1:18th scale 1947 convertible
was used in this cute diorama
MISC. COLLECTION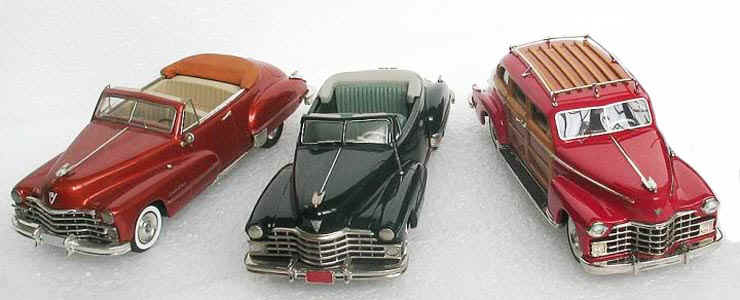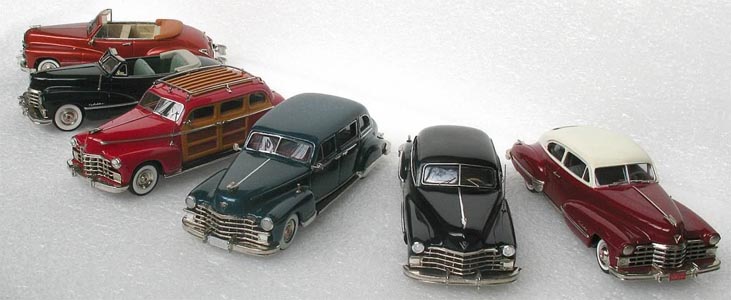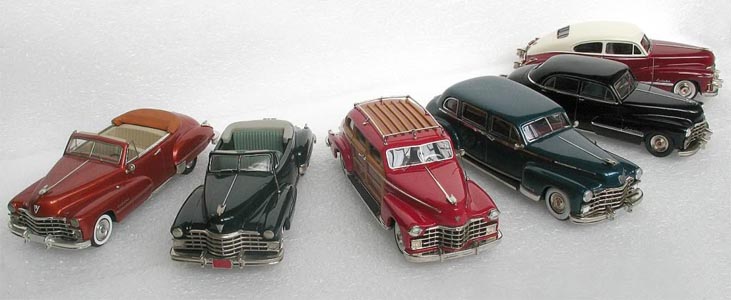 This collection of six 1:43 scale 1947 Cadillac models belongs to my friend Volodymyr Soroklat of the Ukraine