Circa 1:43 Scale
(Richard) CARLSON PRODUCTS, Tucson, AZ., USA


Fleetwood 75 Landau limousine by Richard Carlson Products; resin model
with imitation padded roof , small back light and blank rear quarters
[ conversion from standard 1959 toy by Vitesse, France/Portugal ]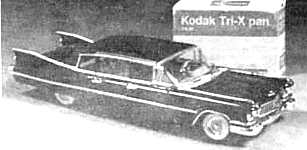 Fleetwood 75 limousine by Richard Carlson products; resin model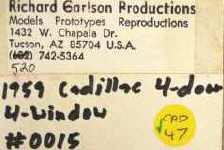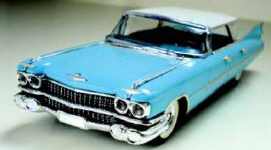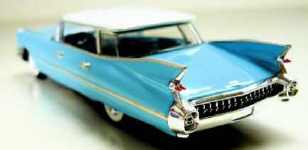 Considered very rare, this is #15, an elegant, miniature 4-window Sedan de Ville
DINKY TOYS, UK


Matchbox, UK, Dinky collection issued this well-detailed replica of the 1959 Cadillac
Series 62 convertible, Ref. #50-207 DY 07;
missing is the Cadillac crest on the front fender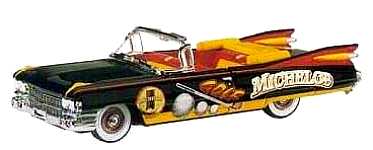 Matchbox toys


This is a special edition "Platinum Series" Matchbox toy from the UK
EMC, UKRAINE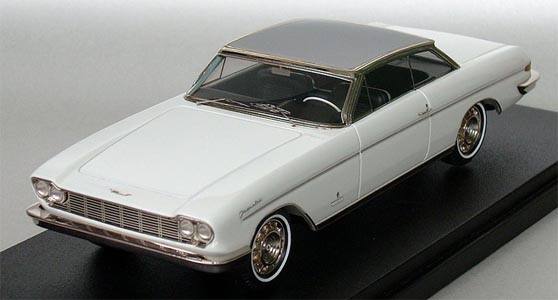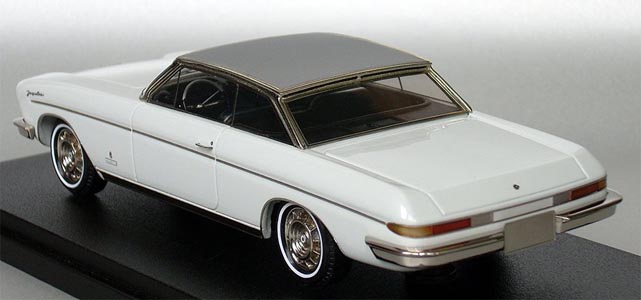 Beautifully crafted, limited edition Pininfarina 1961 Cadillac Jacqueline
showcar "pushmobile" presented at the 1961 Paris auto salon
FRANKLIN MINT, USA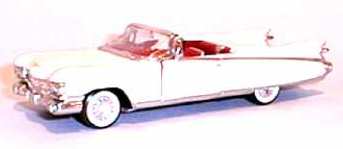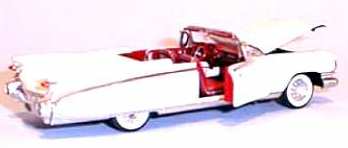 This is one in a series of twelve replicas of Fifties cars made in 1988;
they came in gift set complete with show stand
[ for a head-on photo, see Argus de la Miniature, #108, p.3 ]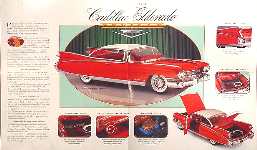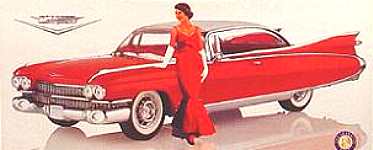 Illustrations are from the company's introductory flyer for the new model
MINI AUTO EMPORIUM (MAE), CANADA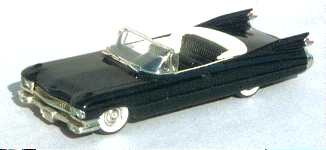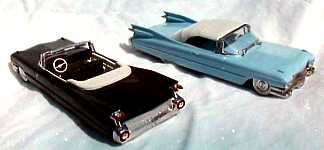 Nice, heavy cast model of the 1959 Series 62 convertible from Model Auto Emporium
(MAE), made in Canada in 1984
Ref.#101 (closed), Ref.#102 (open), various colors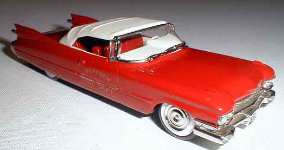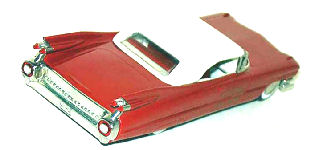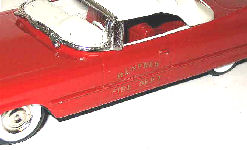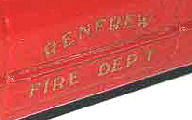 Here's an (unlikely) Fire Chief car from the "Memphis Fire Dept"


MAE, Canada
[ no, it's not 9" long ...look at the ruler ]
MASTER CRAFT (Hong Kong)
(coming in 2012?)


The regular Cadillac Series 75 sedan and limousine


Custom "Bubble Top" limousine for royal visit to Canada of HM Queen Elizabeth II
MOTOR CITY (USA)


Amazing amount of detail on this 1:43 scale model; it is available also in black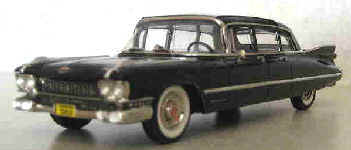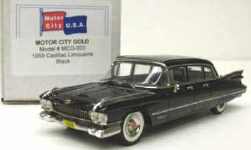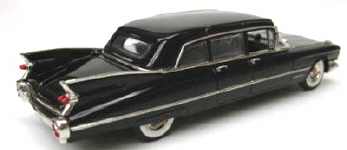 In the "Gold" series comes this stately Series 67 Fleetwood sedan/limousine style, #MCG003
NEO and NEO "SPARK", USA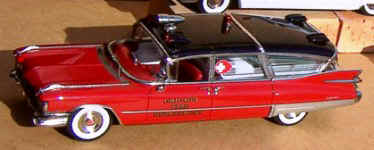 Crown Royale ambulance by Superior Coach Corp.
NEW RAY, USA
Enthusiast, Taral Wayne, wrote (in October, 2005): New Ray has a fascinating line of 1/43 cars. These are mainly of three types -- contemporary models (up to at least 1994), 50's and 60's classics, and foreign sports cars. They produce three different Cadillac convertibles. The '59 Caddy comes in canary yellow (saddle & tan interior), metallic medium blue (tan and deep red interior), and I believe red. I have the yellow and metal blue in my collection.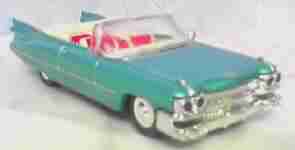 New Ray, #48409-1N Series 62 convertible
SPEEDWAY, USA(?)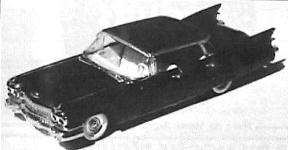 Speedway (1987 ???), based on Vitesse (more detailed than Vitesse equivalent)
VF Modellen, Germany
[ click here for full details and prices ]

IMPORTANT NOTE: these true-to-scale model cars are built and assembled with the utmost patience and care;
production numbers are VERY limited (from 12 to a maximum of 250 units of each) it is quite possible that some
models illustrated may no longer be available and cannot be re-issued; in making up these RARE models, many
photo-etched, chrome-plated or black-plated parts are used, as are also the finest decals; carpets also are depicted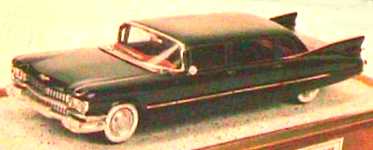 Series 75 limousine by Fleetwood [ may be already out of production ]
[#CC0017, costing DM399 or circa $185]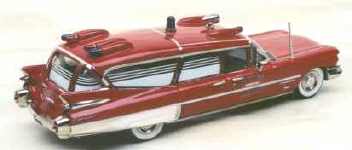 Superior Crown Royale fire rescue ambulance "Bunker Hill Fire Rescue"
VF #CC0005B, costing 399.- Euros (circa $500)




Superior Crown Royale flower car - this model may be already out of production
VF #...., costing DM.... (circa $....)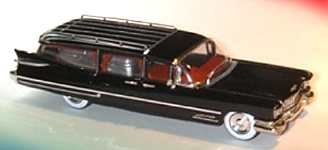 S&S funeral car by Hess & Eisenhardt with optional roof rack
VF #CC0004, costing 399.- Euros (circa $500)

Another S&S funeral car by Hess & Eisenhardt with optional roof rack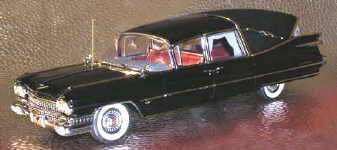 Could this be VF #CC0005E Superior Crown Royale Landaulet funeral coach (black)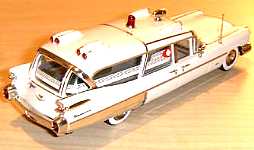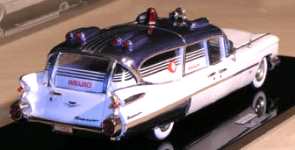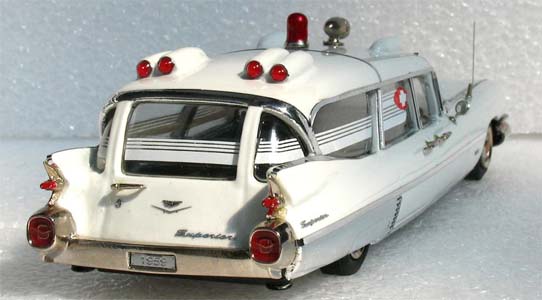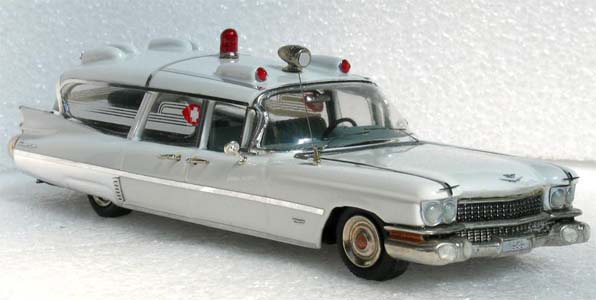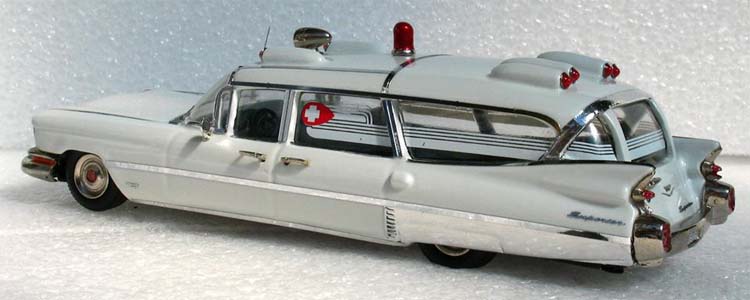 Superior Crown Royale ambulances on Cadillac chassis;
this is VF #CC0005D, 2-tone, costing 399.- Euros (circa $500)
[ this is the actual car; the toy (if it werr ever made) is missing from this selection ]
CC0005F Superior Caravelle, Broadmoor Hotel, 12-seater sightseeing coach
VITESSE, FRANCE / PORTUGAL



Ref. #382: one of many versions of a 1:43-scale model of the 1959 Cadillac
Series 62 convertible by Vitesse (first made in France, then in Portugal)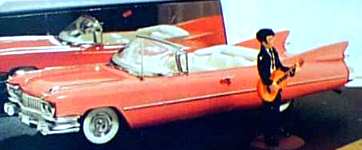 Here is another version of the same toy, claimed to be one of Elvis Presley's
many Cadillacs; however, I have seen no documentary evidence (photo?)
suggesting that "The King" ever owned a Cadillac of this vintage
[ he was in the military, in Germany, that year ]
The color pink is just a cliche; Elvis' favorite color for cars
was black with red interior. The famous 1955 Cadillac Fleetwood
he bought his mother was originally gray
TRUE-SCALE MINIATURES, ... (?)
(manufacturer or simply retailer?)


Car #66146
These models in 1:43 scale depict the special "bubble top" Series 75 limousine that was specially prepared
for the state visit to Canada, in 1959, of H.M. Queen Elizabeth II of the UK and Prince Philip
[it is frequently advertised (in error) as a 1958 model]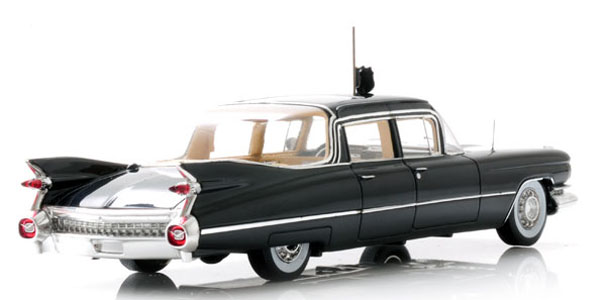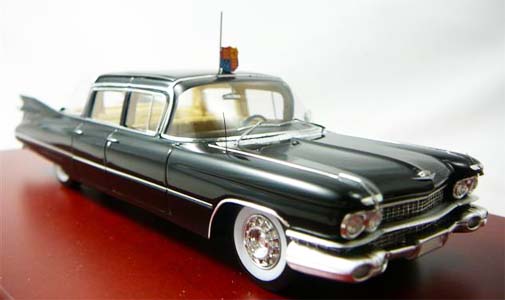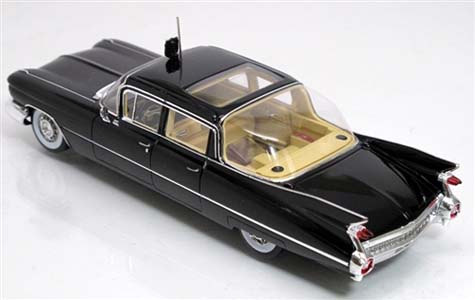 The 1959 "bubble-top" limousine ... without the "Royal" trimmings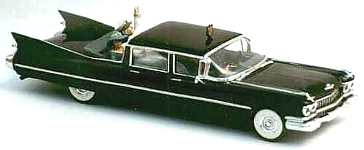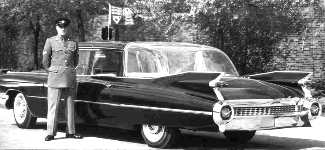 Not sure if the toy [at left] is factory issued or an amateur conversion


I believe this is a conversion from a Vitesse toy;
who did the conversion
[ missing ]
Ref.#380 (1987) various colors

Ref.#381 (1987) closed,. white

Ref.#383, 1959
UNIDENTIFIED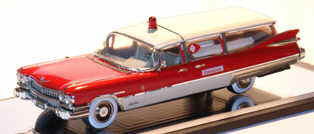 Superior Crown ambulance on Cadillac commercial chassis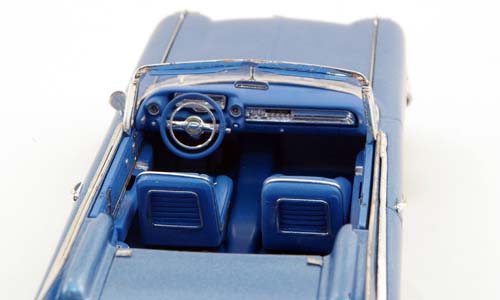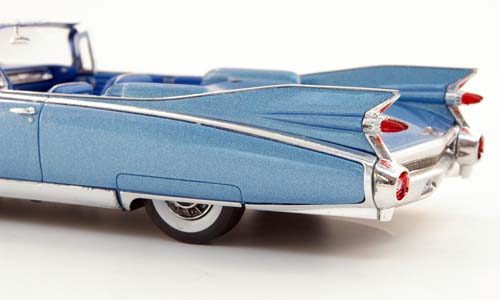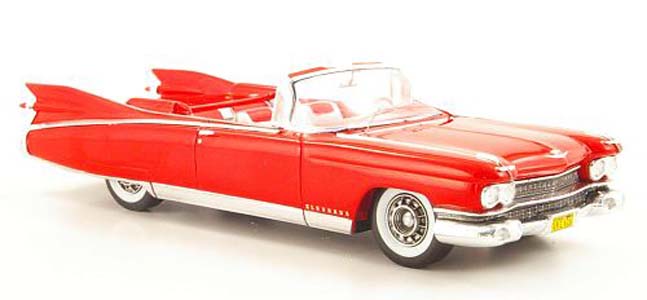 UNIDENTIFIED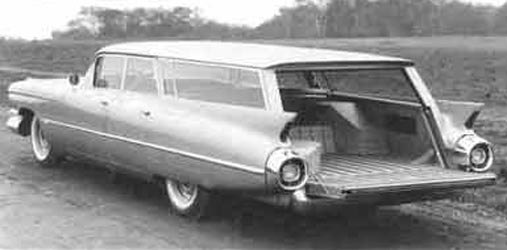 This scale model resembles a custom wagon built on the 1959 Cadillac chassis by Peter Stengel of London and LA (original car, right)